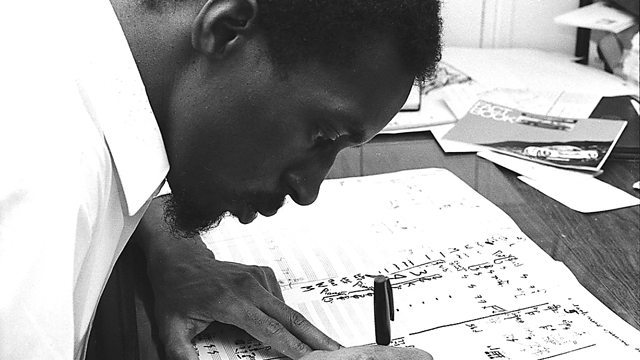 David Dalle
Thursday February 21st, 2019 with David Dalle
Julius Eastman Part II: The Buffalo years 1968-76. Music from Omar Sosa and Seckou Keita.
Julius Eastman's most productive and successful years as an adventurous and experimental composer and musician was during his 8 years living in Buffalo, New York from 1968-1976. It would not seem apparent today, but during these years Buffalo was one of the centers of new music in the US, mostly centered around the State University of New York at Buffalo and its prestigious Creative Associates program which offered fellowships to composer and musicians and sponsored many performing groups and concert series. Julius Eastman gained a fellowship in 1968 and a year later took a teaching position at the university. He was very active as a composer and performer, in both his own and other's work. He collaborated with many other great American experimental composers such as Pauline Oliveros, Frederic Rzewski, Morton Feldman (who held a position as SUNY Buffalo from 1973). He toured and recorded internationally, and achieved significant notice with his 1973 recording in London of Peter Maxwell Davies's "Eight Songs for a Mad King", and which he became the signature performer for many years, including a performance with the New York Philharmonic with Pierre Boulez conducting. Eastman also regularly performed jazz with his brother, the accomplished jazz bassist and guitarist Gerry Eastman. He was a founding member of the S.E.M. ensemble and toured and performed many of his own works with the group and is still active today. He was basically living a fairly comfortable, successful life as composer, musician, teacher, but perhaps it was this comfortable life which chafed against Eastman. From the memories of his friends and colleagues during his later New York years, it would seem Eastman did not want an easy life, he was attracted to a life as a grand struggle. His comments given in a radio interview when he was leaving Buffalo for New York are telling: "What I am trying to achieve is to be what I am to the fullest--Black to the fullest, a musician to the fullest, a homosexual to the fullest". This he would not achieve living a stable, comfortable life in Buffalo... Today we will hear a recording from his Buffalo years, a live recording by the S.E.M ensemble of his 1974 "Femenine", it marks his own individual take on minimalism, with a process he would call "Organic music" where each subsequent section keeps the material from the previous section while adding to it, until towards the end when it starts to subtract material. Of note is the vibraphone which plays this repeated motif anchoring the other musicians, a mechanical sleigh bell which plays continuously, and the piano which is the only instrument granted some freedom, elaborating and embellishing on the music played by others. The piano was presumably performed by Julius Eastman. It is a joyful piece, and the recording was intentionally more casual. During the performance, the audience was served soup made by Julius Eastman himself!
Femenine
Julius Eastman/S.E.M. Ensemble - Femenine - Frozen Reeds
Very happy to learn that the great Cuban pianist Omar Sosa will be playing in Gatineau with Senegalese Kora player and singer Seckou Keita. They collaborated on an 2017 album "Transparent Water" and will be performing in Gatineau on March 15th. The album was a very nice album, but one thing I have found with Omar Sosa, his studio albums are always fascinating and unique, his music becomes transformed in live performance, far greater than the studio allows, he truly becomes one of the greatest Cuban pianists ever! The concert will be a trio with Omar Sosa, Seckou Keita, and Omar Sosa's long time collaborator Venezuelan Gustavo Ovalles, not to be missed for anything!

https://m.ovation.qc.ca/000011/fr/Search/EventInfo?eventId=0F03X3
Foune
Seckou Keita - Mali - ARC
Baiyo
Seckou Keita - Mali - ARC
Sister in Yellow
Omar Sosa - Sentir - Ota Records
Tama-Tama
Omar Sosa & Seckou Keita - Transparent Water - Ota Records
Thiossane
Omar Sosa & Seckou Keita - Transparent Water - Ota Records