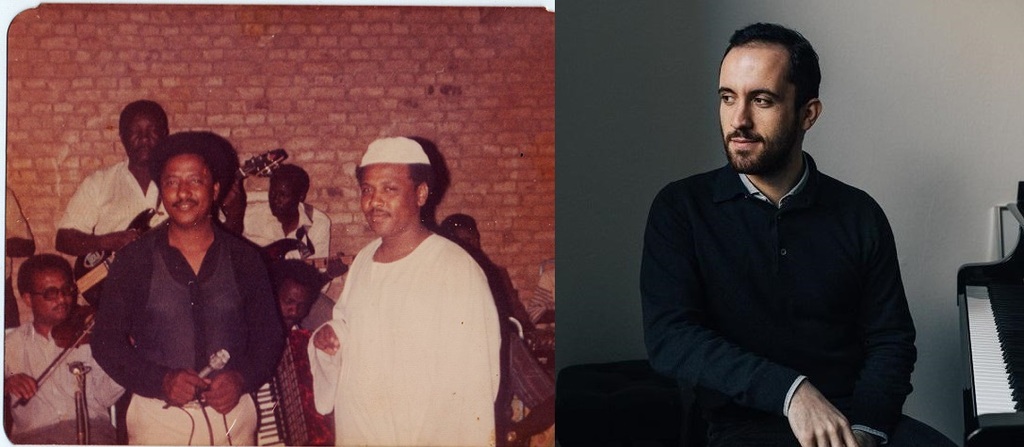 David Dalle
Thursday December 13th, 2018 with David Dalle
In-depth look at "Two Niles to sing a melody", a compilation of 70's Sudanese music and Igor Levit's "Life", many saxophonists and more!
Last week we heard a snippet of a fantastic "Two Niles to sing a melody", there is immense wealth in this new compilation on Ostinato Records of urban music from 1970's Sudan. Many older musicians in Sudan lament the musical golden age from this era, when music was much more free and celebrated in Sudan and particularly the capital Khartoum. Music which was very influential throughout East Africa. "The '60s and '70s were the best, best. The tea ladies and street food falafel guys would have little transistor radios or little tape recorders playing music throughout the day." "This ubiquity of sounds can no longer be heard." We will also look at the new recording from Russian-German pianist Igor Levit and his new recording "Life". This album was the result of the death of a very close friend of Igor Levit. He built a mammoth program with rare pieces and transcriptions by Busoni, Liszt, Rzewski, Schumann, Brahms, and Evans which are closely related to death and remembrance. I would love to feature the whole recital but time is fleeting... "Without you I would not be here as I am today. Without you this program wouldn't exist. It's sad without you. Very Sad. But with you it was a happiness that will endure to the end of my days." -Igor Levit
Al Bareedo Ana
Emad Youssef - Two Niles to sing a melody: the violins & synths of Sudan - Ostinato Records

Min Ozzalna Seebak Seeb
Kamal Tarbas - Two Niles to sing a melody: the violins & synths of Sudan - Ostinato Records

Galbi La Tahwa Tani
Samira Dunia - Two Niles to sing a melody: the violins & synths of Sudan - Ostinato Records

Ma Aarfeen Nagool Shino!
Taj Makki - Two Niles to sing a melody: the violins & synths of Sudan - Ostinato Records

Looking at the playlist, I realize this half of the set is dominated by the saxophone(!) with Saxophonists Guinean Mamadou Barry, Portuguese Ricardo Toscano, American Kamasi Washington, and Italian Antonio Raia. It was really subconsious, following my ears!
Sumbouya
Mamadou Barry feat. Sia Tolno - Niyo - World Village
And maybe not that big a standout among the saxophones, I chose this great Ibrahim Ferrer song because of the inclusion rarely heard Chinese Cornet, which was introduced to Cuba in the 19th century by Chinese immigrants.
Buenos Hermanos
Ibrahim Ferrer - Buenos Hermanos - World Circuit/Nonesuch
Almeria
Ricardo Toscano Quartet - Ricardo Toscano Quartet - Clean Feed Records

The Space Travelers Lullaby
Kamasi Washington - Heaven and Earth - Young Turks
Lullaby
Antonio Raia - Asylum - Clean Feed Records

Igor Levit begins his program with one of my favourite piano pieces, the very rare Fantasia after J.S. Bach by Busoni. Busoni composed the work in 1909 after the death of his father--who had introduced him to Bach. One of the most beautiful, elegaic pieces I know which quotes 3 different pieces by Bach, and has an ambiguous end leaning towards an affirmation of life in F major but ending with echoes of f minor. It is rarely recorded and sadly most of the pianists who have recorded it do not approach the work correctly. Only John Ogdon's magnificent recording of it truly captures this masterpiece, but I am very impressed with Igor Levit's performance as well.
Fantasia after J.S. Bach
Ferruccio Busoni/Igor Levit - Life - Sony Classical

Schumann's final piano piece has an origin suited to a Gothic novel. By 1854 Schumann was suffering from mental illness. In February that year he woke in the middle of the night and started furiously writing this piece, he told his wife that it was angels guiding him, but they later turned to demons. The next day Schumann attempted suicide jumping off a bridge into the Rhine, he was fortunately saved by some fishermen. He completed the work the next day but asked to be admitted to an asylum where he died two years later. Clara refused publication of this work after his death, and it was not published in full until 1939.
Variations in E-flat on an original theme 'Ghost Variations'
Robert Schumann/Igor Levit - Life - Sony Classical

A Mensch
Frederic Rzewski/Igor Levit - Life - Sony Classical

Peace Piece
Bill Evans/Igor Levit - Life - Sony Classical

Chhia-cham
Carate Urio Orchestra - Ljubljana - Clean Feed Records