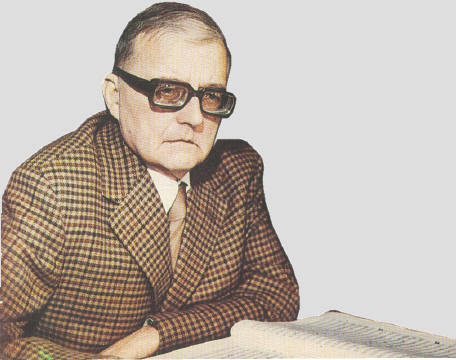 David Dalle
Thursday December 20th, 2018 with David Dalle
Death in Moscow: Shostakovich's final symphony. Followed by joyful music from around the world.
This year as we approach the shortest, darkest day, we will hear Shostakovich's final symphony composed in 1971, near the end of his life. His 15th symphony is a discordant, meandering journey through a wrecked landscape filled with fragments of musical history and ambiguous symbols. Which starts off almost cheerfully with glockenspiel and flute, and with inexplicable moments like the surprising appearance of Rossini's William Tell overture, quotes from Wagner and Shostakovich's own 4th symphony, that ill-fated masterpiece from 1936 which waited 25 years before it would be performed. It asks profound questions about meaning and death, and any answers it may give are not very promising... This is an extraordinary work, and one which could only have been composed by an old, and very ill Shostakovich and only deep in the long, grey, stagnation of the 1970s Soviet Union. We hear a stunning recording from 1982 of the work with the USSR Ministry of Culture Symphony Orchestra conducted by Gennady Rozhdestvensky who died this past June. I admit, one might require a stiff drink after listening to this work. But wait! As human cultures have been doing for millennia during the winter solstice, we will chase the darkness away with joyful noise! The light will ring out with joyful music from around the world bringing warmth and hope and promises of a new dawn!
Symphony No. 15 in A Op. 141
Dmitri Shostakovich/USSR Ministry of Culture Symphony Orchestra, Gennady Rozhdestvensky - Symphonies no. 2, 15 - Melodiya
Lanitra Manga Manga (live)
Salala - Magical Madagascar - Universal Sound & Music
Sacramento
Tabu Ley Rochereau - The Voice of Lightness Vol. 2 - Stern's
Ka Va'ai Mai Koe - reprise
Yoyo Tuki et al. - Small Island Big Song - Small Island Big Song
Ronggeng Imut
SambaSunda - Rahwana's Cry - Network
Siva Mai
Te Vaka - Te Vaka - ARC
Acholi Bwala Dance
Anonymous - East Africa: Ceremonial & Folk Music - Nonesuch
Aluar Horns
Anonymous - East Africa: Ceremonial & Folk Music - Nonesuch
Zaidi
Boban Markovic Orkestar - Millennium - X Produkcio
Sto se beli gore Sar-Planina
Kitka - Evening Star - Diaphonica

Radetov cocek
Boban Markovic Orkestar - Millennium - X Produkcio
Kol Rina
Klezmer Conservatory Band - Dancing in the Aisles - Rounder
Mayn Freylekh Lid
Klezmer Conservatory Band - Dancing in the Aisles - Rounder
Nikris sirto
Selim Sesler - The Road to Kesan - Traditional Crossroads