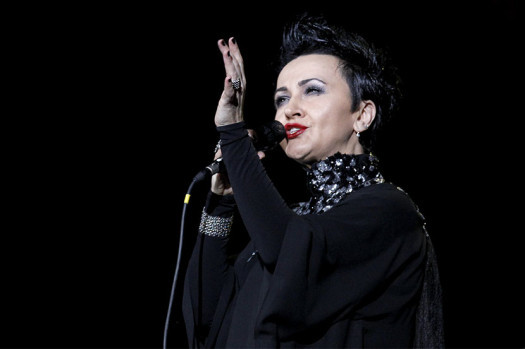 David Dalle
Thursday December 6th, 2018 with David Dalle
A plunge into darkness with rich strings and voices from Bosnia-Herzegovina and Norway, American composer Michael Hersche and Bach, with and African splash of warmth in the Norwegian winter.
As the year draws close, the days get very short and we will take a plunge into darkness with rich strings and voices with the Bosnian sevdalinka singer Amira Medunjanin and her new album with Norway's Trondheim Soloists, new recordings of older songs which evokes an old-world Europe. We also hear the Trondheim Soloists with Anne-Sophia Mutter in Bach's a minor violin concerto. We sink even deeper into darkness and peer into an abyss with American Michael Hersch's Violin Concerto, composed for Moldovan violinist Patricia Kopatchinskaja who has just released the premiere recording with the International Contemporary Ensemble, In between we will have a splash or African warmth intrude into the Norwegian winter with the Norwegian-Gambian drummer and singer Miki N'Doye who leads an African-Norwegian jazz ensemble and a side trip to the Golden Age in Sudanese music with the string and synth orchestras of the 1970's.
Cde si duso, gde si rano
Amira Medunjanin & Trondheim Solistene - Ascending - Town Hill Colony

Ja izlezi Gjurgjo
Amira Medunjanin & Trondheim Solistene - Ascending - Town Hill Colony

Jo Matyas kiraly
Marta Sebestyen - I can See the Gates of Heaven - Viva La Musica
Adje jano kolo da igramo
Amira Medunjanin & Trondheim Solistene - Ascending - Town Hill Colony

Delale
Hawniyaz - Hawniyaz - Harmonia Mundi
Ousu Lion N'Jie
Miki N'Doye Orchestra - Joko - ACT Music
Al Sourah
Mohammed Wardi - Two Niles to sing a melody: the violins & synths of Sudan - Ostinato Records

Violin Concerto in a minor BWV1041
Johann Sebastien Bach/Anne-Sophie Mutter, Trondheim Solistene - In tempus praesens - Deutsche Grammophon
Violin Concerto
Michael Hersch/Patricia Kopatchinskaja, International Contemporary Ensemble, Tito Munoz - End Stages, Violin Concerto - New Focus Recordings

Sve pticice zapevale
Amira Medunjanin & Trondheim Solistene - Ascending - Town Hill Colony