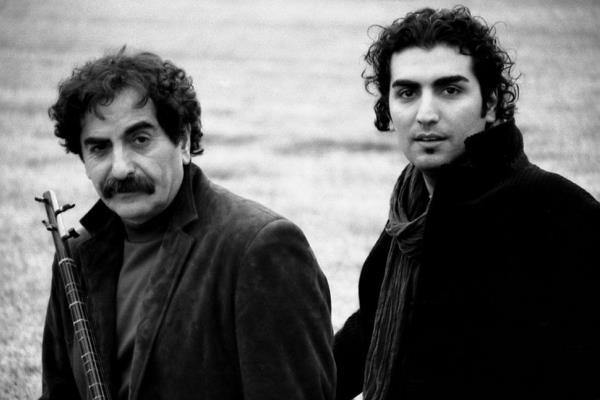 David Dalle
Thursday September 27th, 2018 with David Dalle
Shahram Nazeri with his son Hafez Nazeri
Shahram Nazeri, the Iranian Kurdish Sufi and classical singer, is absolutely fundamental to my musical universe, he is part of a trinity of Sufi singers with Nusrat Fateh Ali Khan and Yasin Al-Tuhami. And he is coming to Ottawa!!!! He was the first to start singing the poetry of Jalal ad-Din Rumi in Persian classical music and Rumi has been central to his career and taken up by his son Hafez who has studied Setar and singing with his father his entire life. Shahram Nazeri often performs his son's compositions including Hafez's Rumi Symphony Project. It is a continuation of this project which they will be performing in Ottawa on Saturday, October 13th.
https://vtixonline.com/shahram-nazeri-and-hafez-nazeri-ottawa/1268/
You can hear the Rumi Symphony Project on my This Island Earth fill-in:
https://cod.ckcufm.com/programs/32/36955.html
And one of my favourite recordings of Shahram Nazeri with Kayhan Kalhor and Dastan:
https://cod.ckcufm.com/programs/105/37726.html
Today we will hear Shahram Nazeri and Hafez Nazeri in the Passion of Rumi
Dastgah-e-Nava i. Mystic
Shahram Nazeri & Hafez Nazeri - The Passion of Rumi - QuarterTone Productions
Dastgah-e-Nava ii. Evan Madaen
Shahram Nazeri & Hafez Nazeri - The Passion of Rumi - QuarterTone Productions
Dastgah-e-Nava iii. Enchanted I
Shahram Nazeri & Hafez Nazeri - The Passion of Rumi - QuarterTone Productions
Dastgah-e-Nava iv. Journey to Eternity
Shahram Nazeri & Hafez Nazeri - The Passion of Rumi - QuarterTone Productions
Dastgah-e-Nava v. Fanayam Man I
Shahram Nazeri & Hafez Nazeri - The Passion of Rumi - QuarterTone Productions
Dastgah-e-Nava vi. Beyond
Shahram Nazeri & Hafez Nazeri - The Passion of Rumi - QuarterTone Productions
Dastgah-e-Nava vii. Fanayam Man II
Shahram Nazeri & Hafez Nazeri - The Passion of Rumi - QuarterTone Productions
Dastgah-e-Nava viii. In Solitude
Shahram Nazeri & Hafez Nazeri - The Passion of Rumi - QuarterTone Productions
Dastgah-e-Nava ix. The Passion of Rumi
Shahram Nazeri & Hafez Nazeri - The Passion of Rumi - QuarterTone Productions
Pizzica degli Ucci
Newpoli - Mediterraneao - Beartones

Nazzu Nazzu
Ludovico Einaudi - Taranta Project - Ponderosa
Anteneh
Minyeshu - Daa Dee - ARC

Cristinita
Estudiantina Invasora - The Estudiantina Tradition - Nimbus
Malika
Maurice el Medioni & Roberto Rodriguez - Descarga Oriental The New York Sessions - Piranha
Persepolis's Mirage
Anouar Brahem, Dave Holland, Jack DeJohnette, Django Bates - Blue Maqams - ECM
Fair Play
Matthew Shipp String Trio - By The Law Of Music - Hatology
Solitude
Duke Ellington/Matthew Shipp String Trio - By The Law Of Music - Hatology