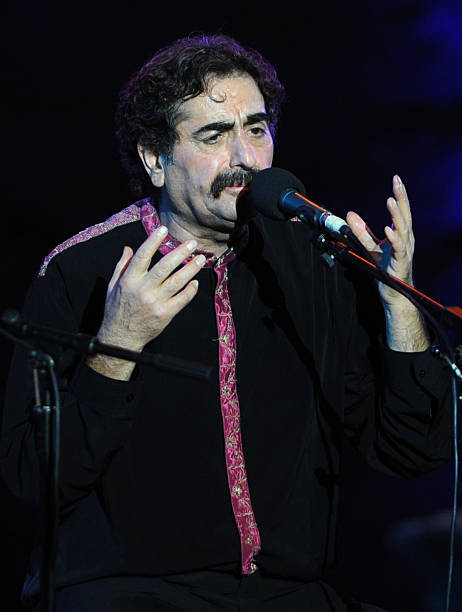 David Dalle
Thursday October 4th, 2018 with David Dalle
Shahram Nazeri; African musics
Today we hear another wonderful performance by Shahram Nazeri, this one a concert recorded in France with the Dastan Ensemble, in its younger guise with Kayhan Kalhor. He sings in a suite with compositions from Hamid Motebassem which also includes vocal and instrumental improvisations. As mentioned last week, Shahram Nazeri is one of the most essential singers for me, full of rich expression and mastery, he has had a singular influence on my musical world over the past 25 years, and he is coming to Ottawa in two weeks!!! Do not miss this extremely rare opportunity to hear the greatest Sufi voice from Iran. Concert info:
https://vtixonline.com/shahram-nazeri-and-hafez-nazeri-ottawa/1268/
Listen to last week's show with his performance of Dastgah Nava with his son Hafez:
https://cod.ckcufm.com/programs/105/39593.html
You can hear the Rumi Symphony Project on my This Island Earth fill-in:
https://cod.ckcufm.com/programs/32/36955.html
And one of my favourite recordings of Shahram Nazeri with Kayhan Kalhor and Dastan:
https://cod.ckcufm.com/programs/105/37726.html
We will hear Shahram Nazeri in the 2nd half of the program, starting the first half with a lot of African music, we begin in South Africa.
Vukani Nobanilele
Amampondo - Drums For Tomorrow - MELT 2000
Collective For 'Changuito'
Amampondo - Drums For Tomorrow - MELT 2000
Imbokodo
Afrika Mamas - Iphupho - ARC
Election Day Serenade
Pops Mohamed - Ancestral Healing - B&W
Kugara Hunzwara
Garikayi Tirikoti - New African Composers vol. 1 - Limitless Sky Records
Madoya
Yekete Beat Band - New African Composers vol. 1 - LImitless Sky Records
Yetal
Minyeshu - Daa Dee - ARC

Nas Fi Nas
Abu Obaida Hassan - The Shaigiya Sound of Sudan - Ostinato Records
Adjua
Cissokho System - Kaira - Norcd
Moghadameh
Shahram Nazeri & Dastan Ensemble - Shahram Nazeri - Long Distance
Daramad
Shahram Nazeri & Dastan Ensemble - Shahram Nazeri - Long Distance
Masti Salamat Mikonad
Shahram Nazeri & Dastan Ensemble - Shahram Nazeri - Long Distance
Barbat solo
Shahram Nazeri & Dastan Ensemble - Shahram Nazeri - Long Distance
Tchaharmezrab
Shahram Nazeri & Dastan Ensemble - Shahram Nazeri - Long Distance
Kamancheh solo
Shahram Nazeri & Dastan Ensemble - Shahram Nazeri - Long Distance
Aragh
Shahram Nazeri & Dastan Ensemble - Shahram Nazeri - Long Distance
Zarbi Aragh
Shahram Nazeri & Dastan Ensemble - Shahram Nazeri - Long Distance
Forud
Shahram Nazeri & Dastan Ensemble - Shahram Nazeri - Long Distance
Fantasy in f# minor
Carl Philipp Emanuel Bach/Alexei Lubimov - Tangere - ECM

Pomok Naka Poktoinskwes (Casey MQ Remix)
Jeremy Dutcher - Single - Independent