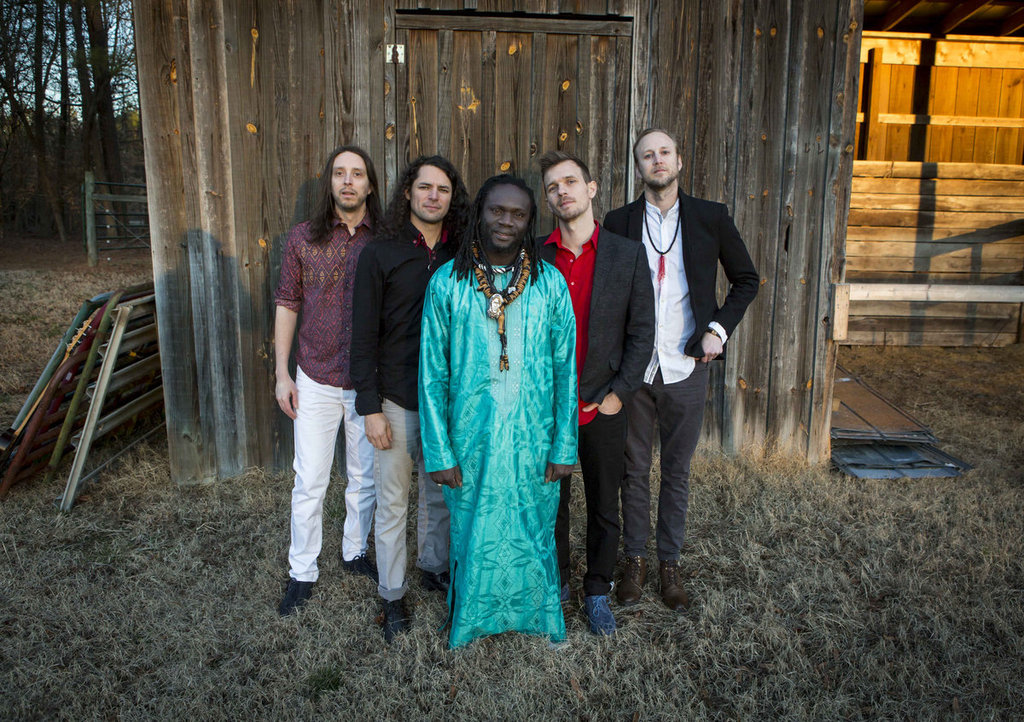 David Dalle
Thursday August 30th, 2018 with David Dalle
From Senegal to North Carolina back to Senegal again
Senegalese kora player and singer Diali Keba Cissokho immigrated to a small town in North Carolina in 2009, serendipitously, he found four American musicians who had an interest in African music, including Will Ridenour who had been studying kora and West African percussion since 1998 with many visits to Mali. Together they formed the group Kaira Ba, which mixes Senegalese Wolof and Manding music with a bit of Southern Rock. On their latest release, "Routes", Diali Keba Cissokho visited his native Senegal to record with musicians there, as well as recording with many musicians from North Carolina, 35 musicians in total. The result is a really strong album. We will also hear some Keith Jarrett and more from the astonishing and unique Pan-Pacific "Small Island Big Song" project.
Alla L'a Ke
Diali Cissokho & Kaira Ba - Routes - Twelve Eight Records

Badima
Diali Cissokho & Kaira Ba - Routes - Twelve Eight Records

Salsa Xalel
Diali Cissokho & Kaira Ba - Routes - Twelve Eight Records

Buscandote
The Latin Brothers - sobre las olas - World Music Network
Mulata Linda
Brenda Navarrete - Mi Mundo - Alma Records
Antologia de Los Soneros: A La Loma de Belen/El Guajiro De Cunagua/Con El Dos No Lo Pierdo
Sierra Maestra - Viaje a la Semilla - Egrem
Rio Part XII
Keith Jarrett - Rio - ECM
Rio Part XIII
Keith Jarrett - Rio - ECM
Rio Part VII
Keith Jarrett - Rio - ECM
Rio Part VIII
Keith Jarrett - Rio - ECM
Rio Part XIV
Keith Jarrett - Rio - ECM
Sama Kaani Xeen
Cheikh Lo - Lamp Fall - World Circuit/Nonesuch
Touka Djembe
Cissoko Bakine Percussion - Cissoko Bakine Percussion - Melodie
Xarit
Diali Cissokho & Kaira Ba - Routes - Twelve Eight Records

Naamusoo
Diali Cissokho & Kaira Ba - Routes - Twelve Eight Records

You can listen to the rest of this phenomenal album on my July 19th show on-demand:
https://cod.ckcufm.com/programs/105/38577.html
Fafy Ramo
Monja et al. - Small Island Big Song - Small Island Big Song

Dewy Sri
Gus Teja - Small Island Big Song - Small Island Big Song

Kwin Potutu
The Yumy Yet Bamboo Band et al. - Small Island Big Song - Small Island Big Song

Omby
Rajery - Small Island Big Song - Small Island Big Song

Ke Ha'a La Puna
Kekuhi Kealiikanakaoleohaililani et al. - Small Island Big Song - Small Island Big Song

Uyas Gerakun
Piteyo Ukah et al. - Small Island Big Song - Small Island Big Song

Don't forget, Rahat Fateh Ali Khan performing this sunday!! Artistic heir and nephew of Ustad Nusrat Fateh Ali Khan:
https://www.facebook.com/events/2113313442244710/

You can listen to most of Rahat's concert recording on my annual Nusrat memorial show 2 weeks ago:
https://cod.ckcufm.com/programs/105/38965.html
Lagan Laagi Tum Se
Rahat Fateh Ali Khan & Party - Remembering Nusrat - Navras