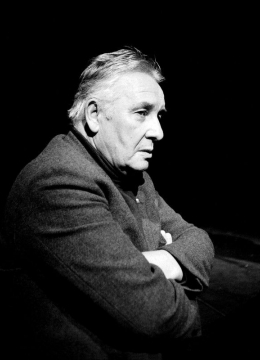 David Dalle
Thursday June 28th, 2018 with David Dalle
Remembrance of Things Past: rare music from Henryk Gorecki and other strangeness to disturb your summer tranquility.
Today's show is built around a new recording featuring one of Henryk Gorecki's more unusual pieces, his 1986 Lerchenmusik. Recitatives and ariosos, op. 53 for clarinet, cello, and piano. This work was a commission he received in 1983 from Danish countess Louise Lerche-Lerchenborg. Gorecki claimed this commission and the resulting work, as well as the support from Lerche-Lerchenborg was instrumental in reviving his creativity. This trio was his first chamber piece in over a decade, but many other compositions followed it. It is a strange, lengthy work in 3 slow, pensive movements with a few violent outbursts, ending in a truly wonderful movement built on a quotation from Sunday Vespers combining with a theme from Beethoven's 4th piano concerto. We will also hear some great Jazz from a new recording from drummer Harris Eisenstadt and his Canada Day Quartet, and other strangeness.
Lily (is 2)
Ibrahim Maalouf - Diagnostic - Mi'ster Productions
Will Soon Be a Woman
Ibrahim Maalouf - Diagnostic - Mi'ster Productions
We All Ate What We Wanted To Eat, Parts 2 & 5
Harris Eisenstadt Canada Day Quartet - On Parade in Parede - Clean Feed Records


Play the Goddamned Part
Nine Inch Nails - Bad Witch - Capitol

Kiik tahab kindaid
Maarja Nuut - Une Meeles - Independent
Da Vida Quero Os Sinais
Misia - Garros Dos Sentidos - Erato
Don't miss Pablo Ziegler in Ottawa! Two shows: with Thirteen Strings on July 5th and solo on July 6th:
https://musicandbeyond.ca/event/pablo-ziegler-piano/
https://musicandbeyond.ca/event/pablo-ziegler-tango-nuevo-july-6/
Milongueta
Pablo Ziegler & Christopher O'Riley - Tango Nuevo - Steinway & Sons
Ionie
Yannis Saoulis & Ensemble - San Magememo - Eastern Gate
Apokliros
Yannis Saoulis & Ensemble - San Magemeno - Eastern Gate
Mozart-Adagio
Arvo Part/Patrick Messina, Henri Demarquette, Fabrizio Chiovetta - Kaleidoscopic - Aparte Music

Lerchenmusik. Recitatives and ariosos Op. 53
Henryk Gorecki/Patrick Messina, Henri Demarquette, Fabrizio Chiovetta - Kaleidoscopic - Aparte Music

Rising
Yom - The Empire of Love - Jazz Village
The Crossing
Yom - The Empire of Love - Jazz Village