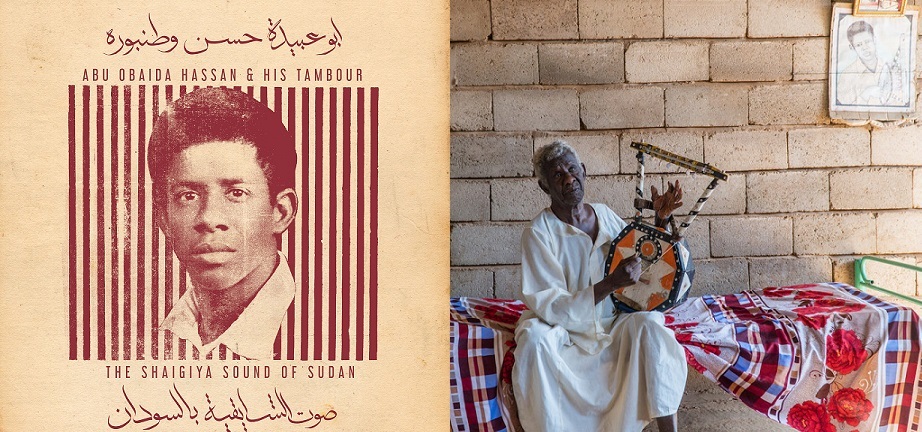 David Dalle
Thursday July 5th, 2018 with David Dalle
Fantastic beats and melodies from Sudan, Ethiopia and elsewhere in East Africa to complement this sweltering heat.
Today we're showcasing a new album from Ostinato records featuring a reissue of recordings from the 1970's and 80's from Sudanese musician Abu Obaida Hassan. As a young man he struck out from his traditions by adding an extra string and electrifying his tambour (similar to the krar and masinko in Ethiopia), he sold out many dance floors in Sudan in the 70's and 80's, but he was widely thought to have been dead by Sudanese media in the early 2000's. Vik Sohonie of Ostinato records came across old recordings in 2011, and travelling in 2016 to Sudan was able to discover Abu Obaida Hassan was still alive and "remains full of life and music", Abu Obaida Hassan helped curate this reissue, his first release of his music outside of Sudan. I am very happy to be able to share his wonderful music with you today! We will also hear a selection of popular Ethiopian music specially brought back from Ethiopia by my sister on her most recent trip there, as well as other great music from East Africa.
Qamar Al Massa
Abu Obaida Hassan - The Shaigiya Sound of Sudan - Ostinato Records

Eywat Setenafegagn
Getatchew Mekuria with The Ex - Moa Anbessa - Terp Records
Sababuyaake
Taddalaa Gammachuu - Gaddaan Keenya
track 5
Helen Berhe - Eski Leyew - Adika
Anchin Say
Nhatty Man - Vol. ፪ - Sigma
Anchi Hoye Lene
Hailu Mergia - Lala Belu - Awesome Tapes from Africa
Chey Belew
Seleshe Damessae - Tesfaye - Music of the World
Shofo Alla
Abu Obaida Hassan - The Shaigiya Sound of Sudan - Ostinato Records

Amshy Shoof
Abu Obaida Hassan - The Shaigiya Sound of Sudan - Ostinato Records

Sweet As Broken Dates: Lost Somali Tapes from the Horn of Africa
Sharero Band fest. Faadumo Qaasim - Qays Iyo Layla - Ostinato Records
Kingo Mwambe
Orchestra Super Mazembe - Mazembe - Stern's
Kuvarira Mukati
Thomas Mapfumo - Rise Up - Real World
Kutambarara
Dumisani Maraire/Dumisami Maraire, Kronos Quartet, Dan Pauli, Oakland Interfaith Gospel Choir - Pieces of Africa - Nonesuch
Mali Sajio
Ketama, Toumani Diabate, Kasse Mady Diabate - Songhai 2 - Ryko
Brisa Lejana
Paco Pena Flamenco Dance Company with Los Losadas - Arte y Pasion - Nimbus
Granada en Flor
Paco Pena Flamenco Dance Company with Los Losadas - Arte y Pasion - Nimbus
Madrid Flamenco
Paco Pena Flamenco Dance Company with Los Losadas - Arte y Pasion - Nimbus