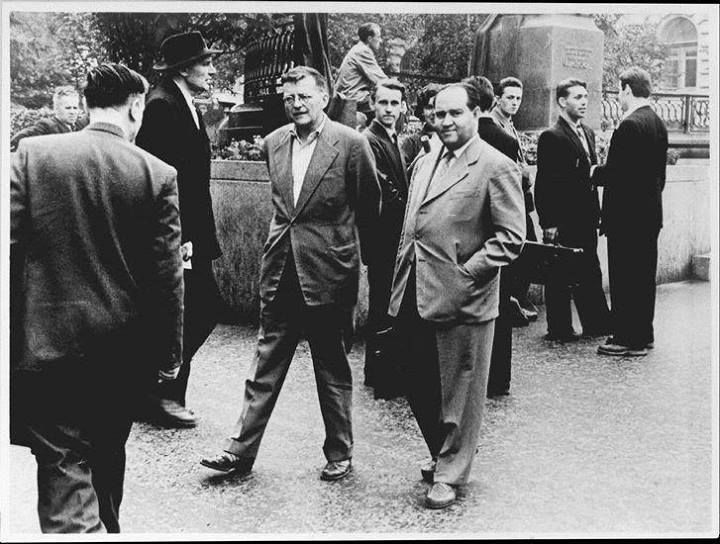 David Dalle
Thursday January 18th, 2018 with David Dalle
"Shakespearean profundity" from Shostakovich with his extraordinary 1st violin concerto with David Oistrakh.
Taking a slight detour from the symphonies of Shostakovich to hear his extraordinary 1st violin concerto. This concerto was composed in 1948, during the same time when Shostakovich's 2nd official denunciation took place. It was clear this profound and biting work would not be permitted he kept the work back until after Stalin's death in 1955, when the dedicatee David Oistrakh premiered the work with the Leningrad Philarhmonic under Yevgeni Mravinsky. The concerto is in 4 movements, alternating between slow and fast. The first is a long brooding nocturne full of suppressed emotions threatening to erupt, the second a brutal scherzo, the third is an extremely emotional slow movement in the form of a passacaglia, referencing both Shostakovich's own 7th symphony and Beethoven's 5th, which ends in a long cadenza leading right into the frenetic burlesque finale. One of my favourite violin concertos, we hear perhaps the definitive recording with the same forces that gave its premiere: Leningrad Philharmonic conducted by Yevgeni Mravinsky with violinist David Oistrakh, who along with cellist Mstislav Rostropovich and pianist Sviatoslav Richter made up a trio of 20th century Soviet Titans on their instruments and all fierce champions of Shostakovich and his music. We have the rare opportunity to hear this violin concerto live this week as the NAC Orchestra will perform it with principal guest conducter John Storgards and Israeli violinist Guy Braunstein.
https://nac-cna.ca/en/event/15862
Violin Concerto No. 1 in a minor Op 99
Dmitri Shostakovich/David Oistrakh, Leningrad Philharmonic Orchestra, Yevgeni Mravinsky - Shostaskovich Violin Concertos 1, 2 - Alto
Kamanche Solo
Shahriyar Jamshidi - A Yellow Flower - Ravimusic
A Yellow Flower
Shahriyar Jamshidi, Farbod Yadollahi, Kaveh Baban - A Yellow Flower - Ravimusic
Qashlarin Kamandir
Kronos Quartet with the Alim Qasimov Ensemble - Music of Central Asia vol. 8 Rainbow - Smithsonian Folkways
Ek Jhalak
Sakar Khan, Ghewar Khan, Firoze Khan, Dara Khan - At Home - Amarrass Records
Aayal
Sakar Khan, Ghewar Khan, Firoze Khan, Dara Khan - At Home - Amarrass Records
Lambi Judai & Morora
Natasha Baig & Mai Dhai - Pakistani Songs 2017
Dhanasri
Arun Ramamurthy Trio - Jazz Carnatica - Arun Ramamurthy
Raga alaapana
L. Subramaniam, VV Ramanamurthy, T Radhakrishnan, G Satya Sai - The Essential Raga Collection vol. 1 Yadukula Kambhoji - Subramaniam Entertainment
Kriti: Divaakara tanujam shanishvaram
L. Subramaniam, VV Ramanamurthy, T Radhakrishnan, G Satya Sai - The Essential Raga Collection vol. 1 Yadukula Kambhoji - Subramaniam Entertainment
Disarray
Saffron Ensemble - Will You? - Tames Records