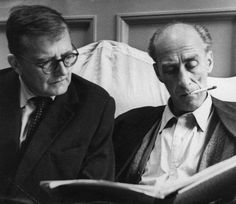 David Dalle
Thursday January 11th, 2018 with David Dalle
Shostakovich's 12th symphony: The composer's surrender? Hungarian, Greek, Bulgarian, Cuban, Uruguayan and other music.
Dmitri Shostakovich in 1960 presents a very conflicting image, it was 7 years into the Khrushchev "thaw" and 7 years since the death of Stalin, yet Shostakovich voluntarily joined the Communist Party. This move surprised everyone, his friends and colleagues, as well as his many admirers, musicians and critics in the West. Some considered it cowardice and a betrayal, some saw it as opportunistic, some believe he capitulated to official pressure and even blackmail. I believe, as some of the testimony from his closest friends suggest, that it was mainly fear and exhaustion. As I have discussed before during my Shostakovich cycle, some of his harshest critics were found in the West, particularly in the US, and comprised of baby-boomers who lived extremely secure, privileged, and free lives, and as such I believe are not really appreciating what living your entire adult life in the Soviet Union, including the entirety of Stalin's rule. Shostakovich was deeply traumatized by the past three decades. In 1960, at the age of 54, Shostakovich surrendered, seeking a modicum of security, and being a member of the Communist Party allowed him to take the position of General Secretary of the Composers' Union which was offered to him. Much is made of the Khrushchev "thaw", but it was still a totalitarian state, it had only been 2 years since Shostakovich was officially rehabilitated from the his 2nd denunciation of 1948. Perhaps the truest hints of Shostakovich real thoughts are found in his 8th String Quartet, universally considered his most auto-biographical work composed a few months after joining the Party with obvious themes coupling despair and Shostakovich's musical signature DSCH. This quartet and other works from this time such as his 1st Cello Concerto shows Shostakovich was at the height of his powers, which makes the 12th symphony, set next to all this background, even more unusual. Composed in 1961, it bears the subtitle "The Year of 1917" and was dedicated to Lenin. The 4th of his "propaganda" symphonies, it is the simplest with the most conventional structure. It is programmatic like his 11th symphony, but does not seem to possess the intriguing ambiguities of the 11th. Did he compose it just as a sop to the Party? Shostakovich always considered it the least of his symphonies, and perhaps it is the least of his symphonies, but it is still worth listening to and can be enjoyed in a more straightforward basis. Today we will hear a stellar recording with the great Dutch conductor Bernard Haitink and the Royal Concertgebouw Orchestra. We will also hear some Hungarian, Greek, Bulgarian, Cuban, Uruguayan and other music.
Symphony No. 12 in d minor Op. 112 'The Year of 1917'
Dmitri Shostakovich/Royal Concertgebouw Orchestra, Bernard Haitink - Symphonies. Nos. 6 & 12 - Decca
A csipos kakas
Khamoro Budapest Band - Hungarian Gypsy Music - ARC
Scenes de la csarda No. 2 Op. 13 'My Little Flute'
Jeno Hubay/Hagai Shaham, Arnon Erez - Scenes de la csarda - Hyperion
Thracian Suite
Bulgarian All Star Orchestra - Dusha - The Soul of Bulgaria - Network
Mirame
Eleftheria Arvanitaki with Buika - Mirame - Universal
Den Milo Gia Mia Nychta Ego
Eleftheria Arvanitaki - Mirame - Universal
Taita Bilongo
Brenda Navarrete - Mi Mundo - Alma Records

Soy Hijo Del Siboney
Guillermo Portabales - Original Egrem Studio Session - Next/Sono
Dejame Un Lado
Wayne Corbea's Salsa Picante - Introducing... - World Music Network
Candombe For Robots
Generacion Noct - Candombe For Robots - MRP
Candombe Lobo
Generacion Noct - Candombe For Robots - MRP
Shapishico
The Angelica Sanchez Trio - Float the Edge - Clean Feed Records