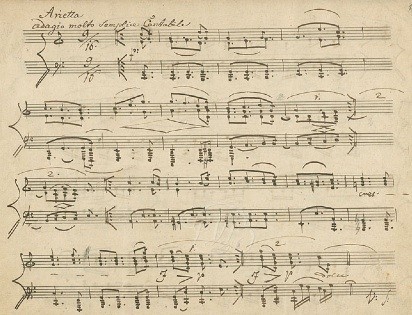 David Dalle
Thursday December 7th, 2017 with David Dalle
A very personal show with Beethoven at his most mystical and transcendent, and other of my most profound musical favourites.
Today we will hear a few of my most profound musical favourites, including the greatest recording of Beethoven I know of, the truly forgotten genius Ernst Levy and his 1956 performance of Beethoven's last Sonata. This work is in c minor, a very significant key for Beethoven, used in very emotionally turbulent and dramatic works like his 5th symphony and Pathétique sonata. Only the first of the two movements of Op 111 is in c minor, and it does echo those earlier works in c minor, full of dark drama and a distraught soul. However this is contrasted by the 2nd movement, the famous Arietta, which pianist Andras Schiff called "A wonder of humanity" and "the most spiritual music from the most spiritual composer". The slow, mystical 2nd movement is C major and is a theme and set of 8 variations. It is full of a deep sense of gratitude and acceptance for a full life lived, despite the suffering and struggles it contained. Intensely bittersweet, listening to this I have always imagined an old man, warmed by all his memories and the beauty in this world, ready for the end, but can't help but think a little, maybe...maybe just a bit more time. I have heard many of the greatest pianists of the past century perform this famous work, but no one has ever captured the pure essence of this work like the obscure Swiss pianist Ernst Levy, the few recordings of his, mostly recorded in Boston in the 1950's where he was a professor, are among the greatest musical treasures.
The incredible cello/kamancheh duo will be performing in Ottawa this Saturday:
https://www.facebook.com/events/144323012866782/

You can hear their live performance in-studio on my Oct 12th program on-demand:
https://cod.ckcufm.com/programs/105/34453.html
Solitude
Kamancello - Kamancello - Independent


Dastgah Chahargah: I. Introduction, II. Improvisation, III. Duet for kamancheh and tombak
Kayhan Kalhor & Pejman Hadadi - Scattering Stars Like Dust - Traditional Crossroads
Del Miravad Ze Dastam
Shahram Nazeri & Dastan Ensemble - Hommage a Nusrat Fateh Ali Khan - Network
Piano Sonata in c minor Op. 111
Ludwig Van Beethoven/Ernst Levy - Forgotten Genius - Marston Records
Confrontation
Kamancello - Kamancello - Independent