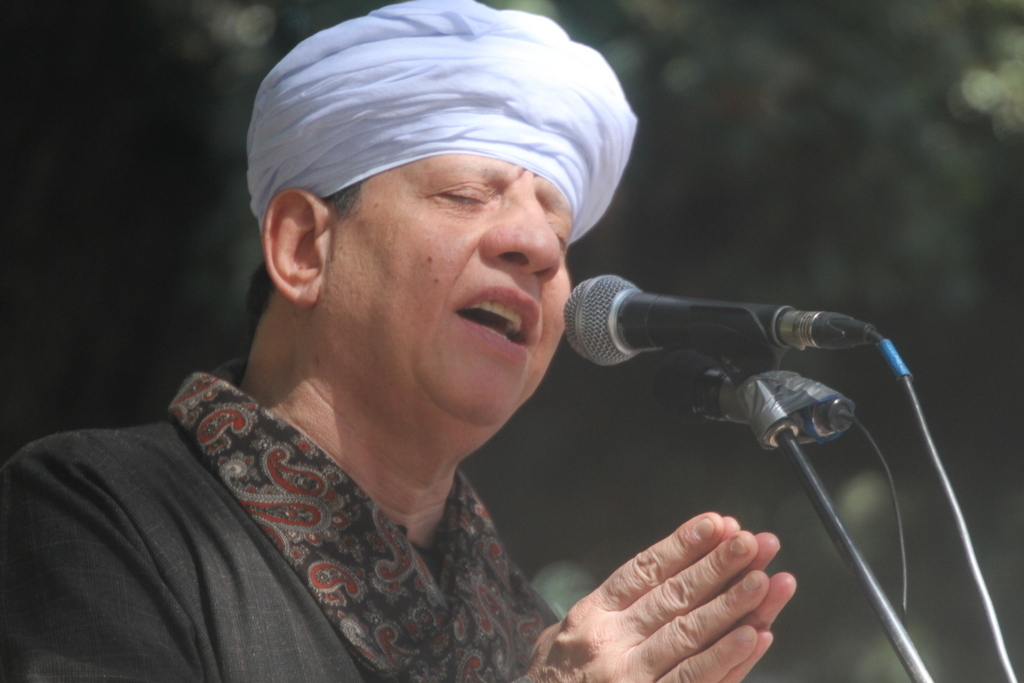 David Dalle
Thursday November 30th, 2017 with David Dalle
The great Egyptian singer Sheikh Yasin Al-Tuhami. One of the most prominent exponents of Sufi Munshidin in Egypt, extremely popular traditions which are very rarely heard outside Egypt.
Heartbroken over the terrorist atrocity in Sinai, Egypt last week. Apparently targetting Sufis, Sufism is deeply entrenched in Egypt and has millions of adherents, it has been part and parcel of Sunni Isalm in Egypt. As I have often mentioned during my program, Muslims are the main victims of Islamic terrorists and extremists. They are not waging a war on the "West", they are primarily waging a war on the Muslim world, on Muslim society, on Muslim culture. Tragically, despite being waged by a small minority, the destruction and damage is enormous. Today we hear one of my favourite musicians, the great Sheikh Yasin Al-Tuhami, one of the most popular Sufi Munshidins in one of his typical, yet miraculous unmetered improvisations, ringing every ounce of emotion from the chosen Maqam. He sings a mystic poem by the 10th century Sufi poet Al Husaynn Ibn Mansur al-Halladj recounting the suffering and distress of the poet who is separated from the divine. He is accompanied by three melodic instruments, Oud, Qanun, Nay which improvise introductions to, and embellishments of Al-Tuhami's voice. He sings the poem in three large sections, each one rising like a massive wave, each one being brought to an even higher, more intense emotional and spiritual ecstasy. An almost unbearable level of tension is reached by the end of the poem, when it is all released in a short Dhikr where powerful percussion and rhythm is introduced, though these Dhikrs can last an hour or more. This is the equal of any of the greatest music I know. It is absolutely inconceivable to me that this great and devout artist, a living repetoire of enormous amounts of classical Arabic and Islamic poetry, as well as the Quran, should be viewed as an enemy by Islamic terrorists...
Labbayka
Sheikh Yasin Al-Tuhami - The Magic of the Sufi Inshad - Long Distance
Mahla Layali El Amar
Hossam Ramzy - Kouhail - ARC
Henna
Ali Hassan Kuban - The Rough Guide to Ali Hassan Kuban - World Music Network
Xuduud Ma Leh Xubigaan
Iftiin Band ft. Mahmud Abdalla Hussen & Maryan Naasir - Sweet As Broken Dates: Lost Somali Tapes from the Horn of Africa - Ostinato Records

Sememen
Girma Yifrashewa - Love & Peace - Unseen Worlds
Shish Kebab
Frank London's Klezmer Allstars feat. Hasballa Brass Band - Brotherhood of Brass - Piranha
Slow Hasidic Nign
Frank London's Klezmer Allstars - Brotherhood of Brass - Piranha
Fast Hasidic Nign
Frank London's Klezmer Allstars - Brotherhood of Brass - Piranha
Divojcice Rozice
Astrid Kuljanic & Transatlantic Company - Riva - Independent

Wild is the Wind
Astrid Kuljanic & Transatlantic Company - Riva - Independent

Zirkelreise
Accordion Tribe - Lunghorn Twist - Intuition
Simchu Bi Jeruschalajm/E'Ise Pele
Semer Ensemble - Rescued Treasure - Piranha