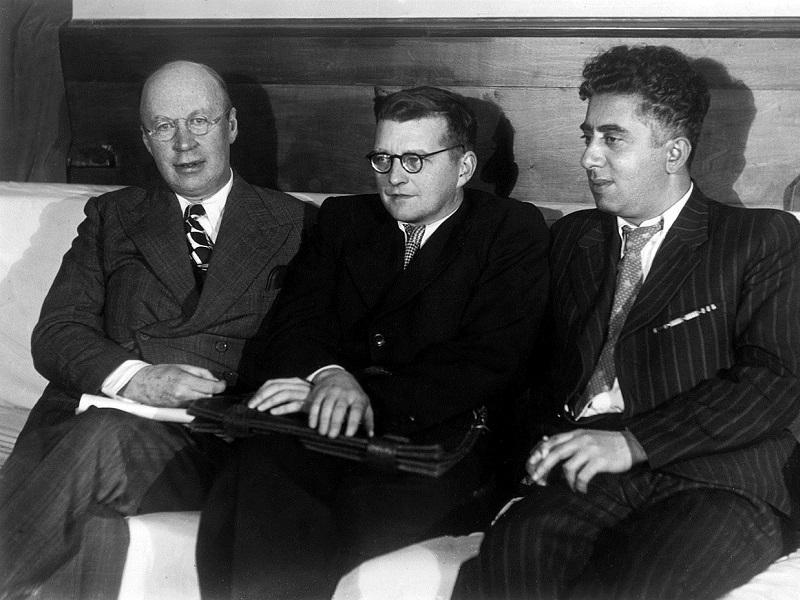 David Dalle
Thursday October 5th, 2017 with David Dalle
Shostakovich steps out of Stalin's shadow: his 10th symphony.
Shostakovich was 18 when Stalin became leader of the USSR in 1924, and his first 9 symphonies were all composed under Stalin's tyranny. Shostakovich was a middle-aged man of 46 when Stalin finally died. Shostakovich had been publically denounced and humiliated in 1936 on Stalin's orders. He had been somewhat redeemed during World War II as his music was very successfully used as international propaganda, but he was once again publically denounced and humiliated in 1948, specifically targeted along with Sergei Prokofiev and Aram Khachaturian. Shostakovich lost his conservatory job and was further humiliated when he was sent to New York City in 1949 as the Soviet representative for the Cultural and Scientific Congress for World Peace. He was forced to denounce Stravinksy and other formalist music at a news conference. He had to write music for film and crass propraganda during this time, he also composed some supreme masterpieces which he kept hidden, such as his 1st violin concerto from 1948. I do not think we can overestimate the enormous traumatic impact living his first 30 years as an adult had on Shostakoivch. I sense that some Western musicologists and critics have not really been able to appreciate this, and definitely there were many pro-Soviet Western artists who had nothing but disdain for Shostakovich such as Picasso. Shostakovich showed his disgust at this private: "(speaking of Picasso in a conversation with a friend) You understand that I'm in a prison and that I fear for my children and myself, but he, he's free, he doesn't have to lie!" Who's forcing him to speak? All of them. Hewlett Johnson, Joliot-Curie, Picasso, they're vipers. They live in a world where maybe it's not so easy to live, but you can tell the truth and work and do what you think best. And he does that peace dove!" Stalin was still extremely dangerous in his final years, particularly developing an irrational anti-semitic paranoia, he had 13 Jewish writers and in other prominent positions arrested, given a show trial and executed in 1948. The same paranoid fear almost led to the executions of another group of primarily Jewish doctors in 1953, only halted by the death of Stalin. So in 1953 we have the first post-Stalin Shostakovich symphony composed only a few months after Stalin's death. I cannot see how this tremendously dramatic, fierce, cathartic symphony could not have been influenced by the single most oppressive force in Shostakovich's life. Shostakovich makes use of his personal musical DSCH motif particularly in the 4th movement, where it triumphs, though equivocally, over the gloom. The 10th symphony was received as his greatest symphony when it was first heard in the West, and it has largely maintained that reputation as his crowning symphonic achievement. I demur as he has many tremendous symphonies, including several of those yet to come. We will hear one of the earliest recordings, if not the premiere recording, from 1954 with the New York Philharmonic conducted by Dimitri Mitropoulos.
Symphony No. 10 in e minor Op. 93
Dmitri Shostakovich/New York Philharmonic, Dimitri Mitropoulos - Symphonies Nos. 10 & 9 - CBS
Sandor
Raphael Vanoli - Bibrax - Clean Feed Records

Perrine
Raphael Vanoli - Bibrax - Clean Feed Records

Two Qalandari Tunes
Yaru Maliri - The Mystic Fiddle of the Proto-Gypsies - Shanachie
Kesaria
Natasha Baig & Mai Dhai - New Songs

Unknown
Ali Nuur - Sweet As Broken Dates: Lost Somali Tapes from the Horn of Africa - Ostinato Records

Mady Guindo
Rail Band feat. Magan Ganessy - Dioba - Stern's
Massigui
Mamani Keita - Gagner l'Argent Francais - No Format
El Manantial
Eliana Cuevas - Golpes Y Flores - Alma Records


Maracambique
Bakini - En el Nuevo Mundo - IU Music