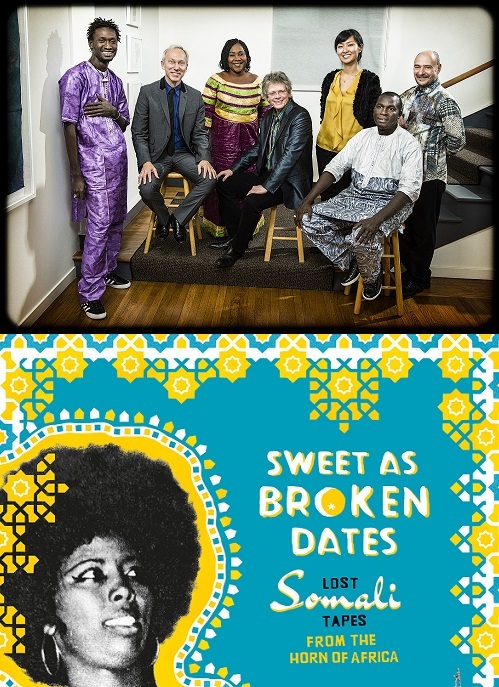 David Dalle
Thursday September 28th, 2017 with David Dalle
Kronos Quartet goes to Mali, with their brand new collaboration with Trio Da Kali. Discovering a lost world of pre-Civil War Somalian popular music from the 1970's and 80's. New York-based Carnatic music group Akshara.
Today's centrepiece is the magnificent new album by the Kronos Quartet & Trio Da Kali. Kronos is well known, Trio Da Kali is a more recent group formed in 2013, comprised of 3 Malian musicians Fodé Lassana Diabaté on balafon, Mamadou Kouyaté on bass ngoni, and singer Hawa Kassé Mady Diabaté. Hawa Kassé Mady is the daughter of one of Mali's greatest (and my favourite) singers, Kassé Mady Diabaté. She is heir to one of the most important griot families from the heart of Mande culture. Most of the pieces on the album are important songs in that tradition in arrangements centered around Trio Da Kali's own interpretation intertwined with the string quartet. The unusual combination is absolutely seamless and organic sounding and are led by the gorgeous and powerful voice of Hawa Kassé Mady. Two of the songs are gospel classics sung by the legendary Mahalia Jackson. David Harrington of the Kronos Quartet thought of Mahalia Jackson when he first heard Hawa Kassé Mady, and the idea came to mind for her to sing arrangements of these songs in Bambara. Hawa Kassé Mady had never heard Mahalia Jackson or Gospel music before, but apparently they have become two of her favourite songs to sing. This album is a strong contender for my favourite of the year! Though there is so much great music out there, another terrific new release is this compilation "Sweet As Broken Dates: Lost Somali Tapes From the Horn of Africa "of pre-Civil War Somalian urban music from the 1970's and 80's, a small sampling of music from thousands of cassettes safeguarded and rediscovered in Hargeisa in Somaliland. The songs are infectiously funky with a preponderance of female singers. The last new album I am showcasing today is from the New York based groups Akshara, led my mridangist Bala Skandan it is new music rooted in Carnatic music and centered around South Indian percussion, violin and a lot of vocal percussion (known as Konnakkol) with a few other instruments making appearances like the santur. It features the New York Carnatic violinist Arun Ramamurthy whom we have heard before with his Carnatic-Jazz trio. Another stellar release!
Tita
Trio Da Kali and Kronos Quartet - Ladilikan - World Circuit

God Shall Wipe All Tears Away
Trio Da Kali and Kronos Quartet - Ladilikan - World Circuit

Haddii Hoobalkii Gabay
Hibo Nuura - Sweet As Broken Dates: Lost Somali Tapes from the Horn of Africa - Ostinato Records

Uur Hooya
Danan Hargeysa feat. Mohamed "Huro" Abdihashi - Sweet As Broken Dates: Lost Somali Tapes from the Horn of Africa - Ostinato Records

Na Daadihi
4 Mars - Sweet As Broken Dates: Lost Somali Tapes from the Horn of Africa - Ostinato Records

Duo Influenciado
Hilario Duran and Chucho Valdes - Contumbao - Alma Records


Clandestin
Fatoumata Diawara & Roberto Fonseca - At Home - Live in Marciac - Jazz Village
Lila Bambo
Trio Da Kali and Kronos Quartet - Ladilikan - World Circuit

Toumarou
Kasse Mady Diabate - Kirike - No Format
Eh Ya Ye
Trio Da Kali and Kronos Quartet - Ladilikan - World Circuit

Tenebrae for String Quartet
Osvaldo Golijov/Wordless Music Quartet - Sound and Silence - NPR
Diverging Crossroads
Frank Horvat - You Haven't Been - I Am Who I Am


Opus in 5
Akshara - In Time - Blue-Skinned God Records

Mohana Blues
Akshara - In Time - Blue-Skinned God Records