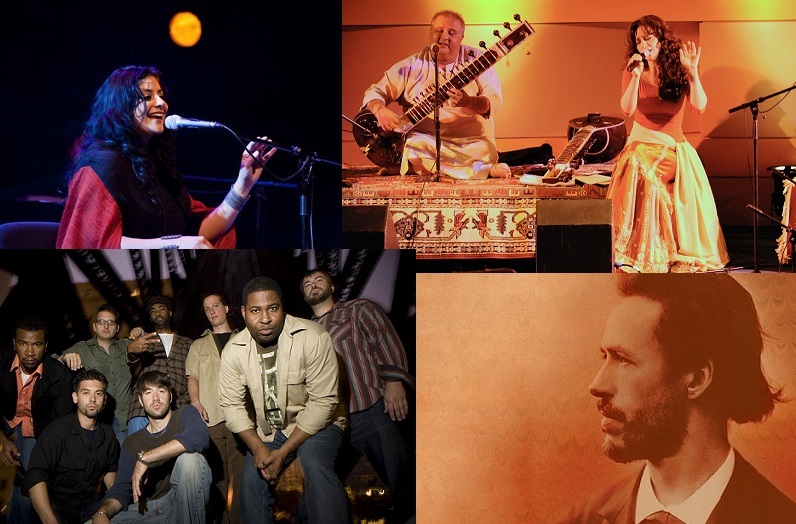 David Dalle
Thursday August 24th, 2017 with David Dalle
New Afrofunk from Chicago and D.C. A look at the Ottawa Palestinian Festival. New music from Persian singer Katayoun Goudarzi & sitarist Shujaat Hussain Khan. Rare music from Benjamin Godard.
We begin today with two American Afrofunk bands: The Chicago Afrobeat Project and Chopteeth from D.C. Both with new albums out. "What Goes Up" from the Chicago Afrobeat Project features the legendary drummer and musical director for Fela Kuti's band Tony Allen. We hear some highlights from this weekend's Ottawa Palestinian Festival. Three days of Palestinian music and culture, with free admission. Particularly excited to see Sanna Moussa on Saturday night.
www.palestinianfestival.ca
We also hear from the new album "Will You?" from Persian singer Katayoun Goudarzi and the great sitarist Shujaat Hussain Khan performing together as Saffron Ensemble. This is their sixth album together and featuring saxophonist Tim Ries, pianist Kevin Hays, and tabla player Dibyarka Chatterjee. Passionate and beautiful. Lastly we will hear a rare piano concerto by French composer Benjamin Godard with his 2nd Piano Concerto from 1893. An irresistible work, it just shows how deep the well of great unknown music goes.
Must Come Down
The Chicago Afrobeat Project - What Goes Up - Independent

Warriors
Chopteeth - Bone Reader - Independent

Tribulation
Chopteeth - Bone Reader - Independent

Lanquidity
Sun Ra - Lanquidity - Evidence
Where Pathways Meet
Sun Ra - Lanquidity - Evidence
Eclipse At Dawn
Abdullah Ibrahim - The Song is My Story - Intuition
Many Things
Seun Kuti & Fela's Egypt 80 - Seun Kuti & Fela's Egypt 80 - Disorient
Ado Le
Fatai Rolling Dollar - Papa Rise Again - Eko Star Entertainment
Nijmet El-Subet
Sana Moussa - Ishraq - Reminiscence - Darna
Tallat El-Baroudeh
Sana Moussa - Ishraq - Reminiscence - Darna
Will You?
Saffron Ensemble - Will You? - Tames Records

Don't
Saffron Ensemble - Will You? - Tames Records

Piano Concerto No. 2 in g minor Op. 148
Benjamin Godard/Howard Shelley, Tasmanian Symphony Orchestra - The Romantic Piano Concerto vol. 63 - Hyperion