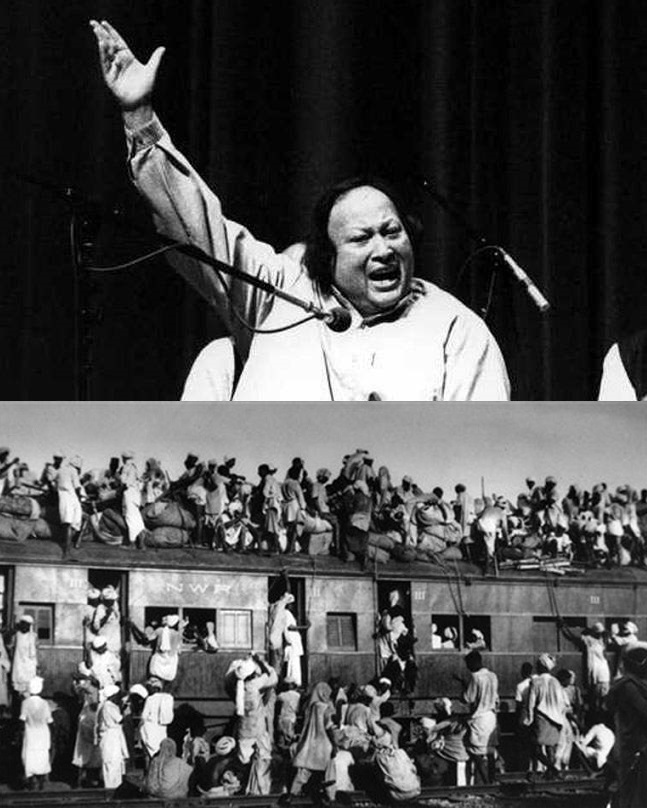 David Dalle
Thursday August 17th, 2017 with David Dalle
Nusrat Fateh Ali Khan annual memorial show. 20th anniversary of the death of the peerless artist. The Partition of India.
It has been 20 years since the death of Ustad Nusrat Fateh Ali Khan on August 16, 1997. He still remains a peerless summit in the passionate spiritual artistry of Qawwali. I rarely mention the fact that his death came just after the Partition of the British Raj into independent Pakistan and India, which was then celebrating their 50th anniversaries. Now they are marking their 70th anniversaries, and more attention is being paid to the cost of that partition. The Partition resulted in massive violence with up to 2 million people losing their lives, and the largest population migration in modern times, particularly in Punjab, Bengal, Sindh. This was an enormously traumatic event for both nations and has largely contributed to lasting bitterness and distrust between these neighbours. It is tragic that despite sharing so much common culture and history, they are now bitter enemies with nuclear weapons pointed at each other. Nusrat Fateh Ali Khan was a child of Partition, his family lived in Jalandhar in Eastern Punjab where they practiced Qawwali for generations. His family was uprooted like millions throughout Punjab as the Partition was imposed with very little planning or preparation, millions of Muslims fleeing from East to West Punjab and millions of Hindus and Sikhs fleeing from West to East Punjab across the newly dictated border. Nusrat was born a year later, the first in his family in the new nation of Pakistan, in Faisalabad. They were one of thousands of musical families who ended up in Western Punjab as refugees. Today we will remember Nusrat with several wonderful pieces which have never been heard on my show before, as I have recently expanded my Nusrat discography thanks to longtime former CKCU host and volunteer Tony Daye. We will also hear from a great Hindustani singer who migrated in the opposite direction from Nusrat, Pandit Yashpaul who was born in Western Punjab in 1937, and fled as a child settling in Nusrat's ancestral hometown of Jalandhar. Pandit Yashpaul is celebrating his 80th birthday this year, and was in Canada performing as recently as 2013.
Zikroulahi
Cheikh Lo - Hommage a Nusrat Fateh Ali Khan - Network
Ali Maula Ali Maula Dam Dam Lakh Te Karode Aakho Jam Jam
Ustad Nusrat Fateh Ali Khan & Party - Kithe Yaar Na Hove - SCI
Mainu Yaar Manouno Fursat Nahin
Ustad Nusrat Fateh Ali Khan & Party - Nit Khair Manga Sohneya Main Teri Dua Na Koi Hor Mangdi - Nupur
Rag Nhatt Bhairav: Janiya Ve
Pandit Yashpaul - Ragas
Mast Nazron Se Allah Bachaye
Ustad Nusrat Fateh Ali Khan & Party - Mast Nazron Se - SCI
Mera Piya Ghar Aaya
Asif Ali Khan - Hommage a Nusrat Fateh Ali Khan - Network