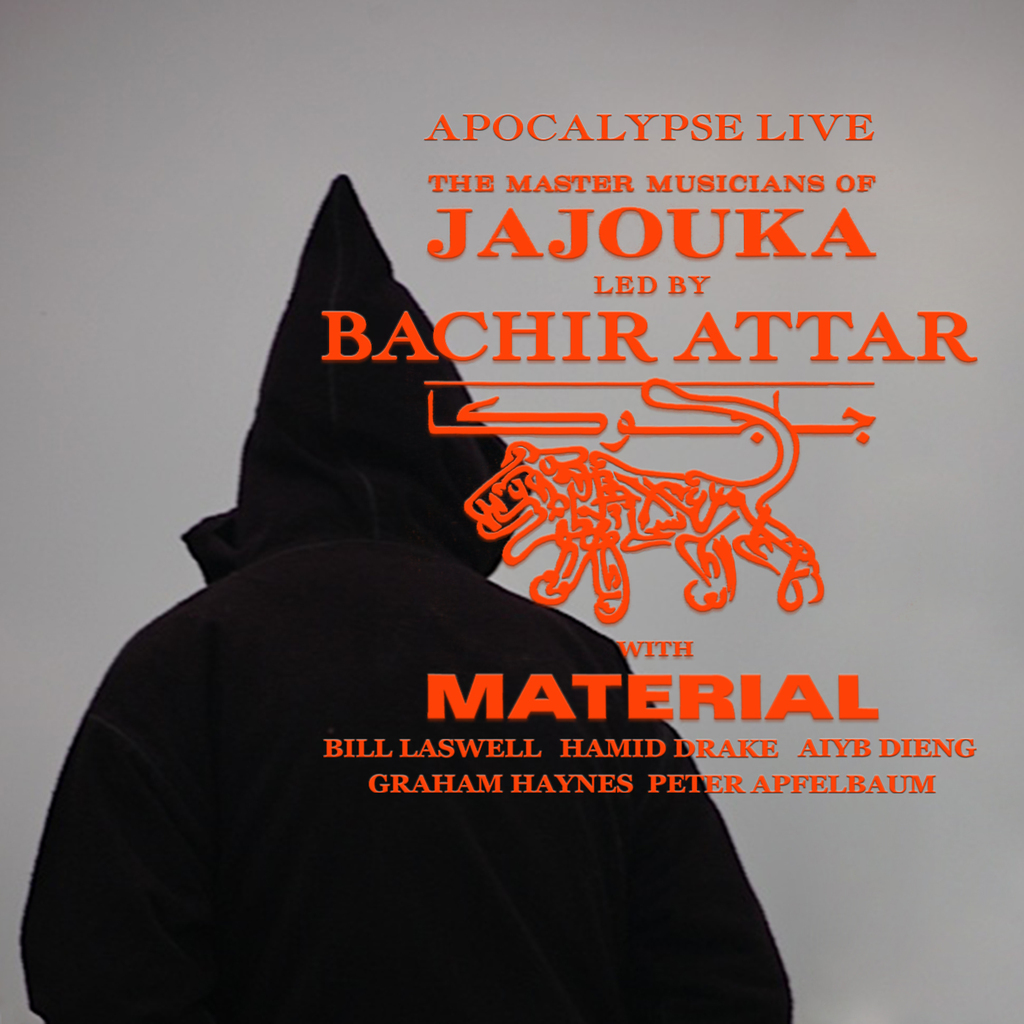 David Dalle
Thursday April 27th, 2017 with David Dalle
Apocalypse Live: The Master Musicians of Jajouka in concert with Bill Laswell and his Material ensemble
How do you tailor-make a new album for my show? One surefire way is to take the blistering double-reeded Ghaita and percussion from Morocco and add a thrilling, diverse group led by bassist Bill Laswell with cornetist Graham Hayens, saxophonist and flautist Peter Apfelbaum, drummer and percussionists Hamid Drake and Aiyb Dieng and produce a live album. "Apocalypse Live" is the name of this new superb album. The Master Musicians of Jajouka also perform on the Lira, guimbri, and violin, but it is the Ghaita which takes centre stage on this album with its searing unending melodies, they grab your ears and do not let go! We will hear the whole live album.
Dancing from the Heart
The Master Musicians of Jajouka led by Bachir Attar with Bill Laswell and Material - Apocalypse Live - M.O.D. Technologies

The Bird's Prayer
The Master Musicians of Jajouka led by Bachir Attar with Bill Laswell and Material - Apocalypse Live - M.O.D. Technologies

The New and the Ancient
The Master Musicians of Jajouka led by Bachir Attar with Bill Laswell and Material - Apocalypse Live - M.O.D. Technologies

Hlallia
The Master Musicians of Jajouka led by Bachir Attar with Bill Laswell and Material - Apocalypse Live - M.O.D. Technologies

MoChuachag Laghach Thu
Mac Umba - don't hold your breath - Greentrax
Abeue
Os Ritmistas - Daora: Underground Sounds of Urban Brasil, Hip-Hop, Beats, Afro & Dub - Mais Um Discos
Malunguinho
Abayomy Afrobeat Orquestra - Daora: Underground Sounds of Urban Brasil, Hip-Hop, Beats, Afro & Dub - Mais Um Discos
Obrigahh
Doncesao - Daora: Underground Sounds of Urban Brasil, Hip-Hop, Beats, Afro & Dub - Mais Um Discos
Amarmoussaoui
Hassan Hakmoun - Unity - Healing Records
Zaini
Maalem Mohktar Gania & Bill Laswell - Tagnawwit - Holy Black Gnawa Trance - M.O.D. Technologies