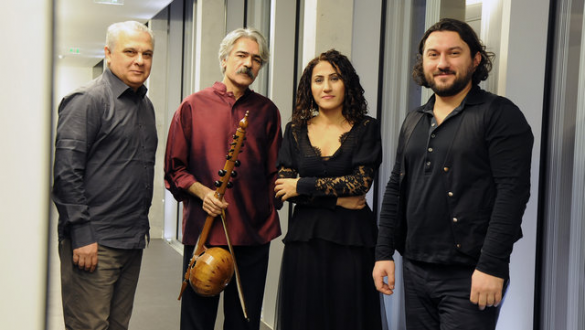 David Dalle
Thursday September 8th, 2016 with David Dalle
The Hawniyaz Quartet, a tremendous meeting of Kayhan Kalhor, Salman Gambarov, Cemil Qocgiri and Aynur Dogan. Persian, Azeri, Kurdish music and song.
Very happy to present a new album from one of my favourite musicians, Kayhan Kalhor with a new, exceptional ensemble, the Hawniyaz quartet. This ensemble features Kayhan Kalhor on kamancheh, Azerbaijani Salman Gambarov on piano, Kurdish Cemil Qocgiri on tenbur, and the impassioned voice of Kurdish Aynur Dogan. This unusual musical ensemble began as a meeting of colleagues at the Morgenland Festival in Germany in 2012. Cemil Qocgiri suggested they try and play something together, and not part of any performance, and in the words of Cemil Qocgiri and the producer Michael Dreyer: "Cemil suggested 'Delale', a traditional Kurdish song that Aynur has performed the previous evening - We had no time for a full rehearsal...so I suggested that Salman begin, followed by Kayhan. Then a short piece on the tenbur to introduce the song. Everything else was free improvisation...-And there it was, a collaboration of four exceptional musicians who were playing together for the very first time. This premiere was caught on camera. Salman starts, you can see his fingers literally searching for the notes, which fall like rain. Kayhan joins him on the kamancheh, with little more than a breath of his bow. A tender cantilena, arising from time immemorial. Then, with just a few notes, the tenbur ushers in Aynur. What a voice! At first fragile, then building to an unbelievable intensity! I have listened to and watched this sequence over a hundred times and it never fails to send a shiver down my spine. For me, everything that music is, everything that has made it the centre of my life, is embodied in those few minutes. Fragility, strength, beauty." They were able to record this album in 2013 and has just been released by Harmonia Mundi. It begins with the same song they first played in 2012. It is an utterly unique and breathtaking album full of exquisite music and passionate songs of grief and longing. Wonderful!
Delale
Hawniyaz - Hawniyaz - Harmonia Mundi

Rewend
Hawniyaz - Hawniyaz - Harmonia Mundi

Xidire min
Hawniyaz - Hawniyaz - Harmonia Mundi

Malan Barkir - Berivane
Hawniyaz - Hawniyaz - Harmonia Mundi

Ehmedo - Ez Reben Im
Hawniyaz - Hawniyaz - Harmonia Mundi

Double Arc Jake
Don Pullen and Jane Bunnett - New York Duets - Denon
Ma Aamlo Biya
Maurice el Medioni - Cafe Oran - Piranha
Nyeleni
Super Biton - Belle epoque - Sonodisc/Syllart
Ohambe
Tabu Ley Rochereau - The Voice of Lightness vol. 2 - Stern's
Gogoplata
Derobe Dance Band - African All Stars (Best Indie & Alternative African Recordings from 1970 to 2015) - Melynga
Nao Foi Em Vao
Orquestra Imperial - Carnaval so ano que vem - Totolo
Sun and Snow
Wu Wei & Wang Li - Overtones - Harmonia Mundi