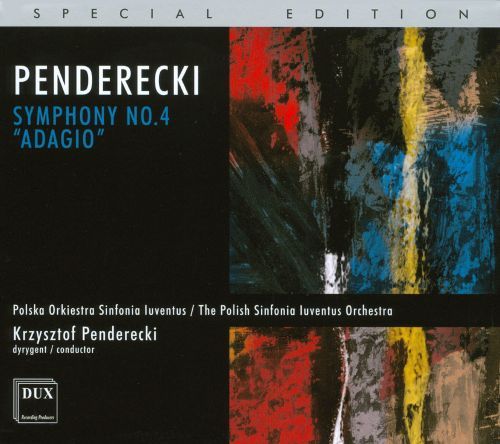 David Dalle
Thursday September 1st, 2016 with David Dalle
Continuing with the Penderecki symphony cycle and his 4th symphony. Also music from eastern and southern Europe, and a Gloomy Sunday.
After a summer break, we are continuing the Krzysztof Penderecki symphony cycle with his 4th symphony from 1989. This work is subtitled "Adagio" because 3 of its 5 movements are set at slow tempo, yet the work could also have been subtitled "Ambivalent", as this is the dominant emotional scope of this beautiful work. There is strong contrast between the slow movements and the short scherzo-fugato movements and despite a few powerful outbursts, the symphony veers towards ambivalence. As with the other symphonies in the cycle, this is a recording conducted by the composer. We will also hear music from Eastern and Southern Europe as well as several versions of Gloomy Sunday.
A Warmer Place
Lubomyr Melnyk/Lubomyr Melnyk, Peter Broderick - Corollaries - Erased Tapes

Navigatore
Renaud Garcia-Fons - Navigatore - Enja
Zvoanelle
Taraf Ionel Budisteanu - Musiques et danses des plaines de Roumanie - Kardum
Hora
Taraf Ionel Budisteanu - Musiques et danses des plaines de Roumanie - Kardum
Dukeland In Your Heart
Boris Kovac & La Campanella - World After History - Piranha
Triste Domingo
Chango Spasiuk - Hungarian Noir - A Tribute to the Gloomy Sunday - Piranha

Metopes Op 29 i. L'ile des Sirenes
Karol Szymanowski/Cedric Tiberghien - Masques, Metopes, Etudes - Hyperion
Metopes Op 29 ii. Calypso
Karol Szymanowski/Cedric Tiberghien - Masques, Metopes, Etudes - Hyperion
Metopes Op 29 iii. Nausicaa
Karol Szymanowski/Cedric Tiberghien - Masques, Metopes, Etudes - Hyperion
Szormoru Vasarnap
Cimbalomdu - Hungarian Noir - A Tribute to the Gloomy Sunday - Piranha

Czarna Niedziela
Kayah - Hungarian Noir - A Tribute to the Gloomy Sunday - Piranha

Symphony no. 4 "Adagio"
Krzysztof Penderecki/The Polish Sinfonia Iuventus Orchestra, Krzysztof Penderecki - Symphonies Nos. 4 & 5 - Dux
Tbekat
Omar Souleyman - Dabke 2016
Hora Strengarilor
Fanfare Ciocarlia - Onwards to mars! - Asphalt Tango