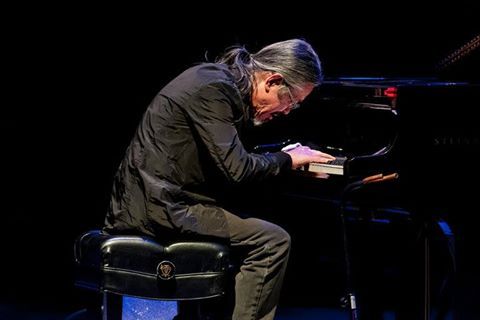 David Dalle
Thursday August 25th, 2016 with David Dalle
New piano music and differing shades of trumpet. Palestinian music.
Today we hear new recordings of fairly obscure piano music. Including a recording of the final concert given by Japanese jazz pianist Masabumi Kikuchi. He performed a coming home concert of sorts in Tokyo where he was born after spending most of his life in New York City. He worked on the edges of the New York jazz scene partly due to his uncompromising approach to his art. In this final concert from 2012 he really shows his Japanese side with improvisations of an introspective and delicate nature, though with the occasional, unexpected storm. Masabumi Kikuchi died in 2015 and ECM released this concert recording this year. We also hear from an obscure Polish composer, Ludomir Rozycki, and his 1st piano concerto from 1918 in the latest release in Hyperion's Romantic Piano Concerto series (vol. 67). We will also hear trumpet from Ibrahim Maalouf and Miles Davis. Finally we hear Nizar Al Issa, Palestinian Oudist and singer from Ramallah who will be performing several shows at the Ottawa Palestinian Festival this weekend.
http://www.palestinianfestivalottawa.com/
Tokyo Part I
Masabumi Kikuchi - Black Orpheus - ECM

Tokyo Part II
Masabumi Kikuchi - Black Orpheus - ECM

Tokyo Part III
Masabumi Kikuchi - Black Orpheus - ECM

Tokyo Part V
Masabumi Kikuchi - Black Orpheus - ECM

Everything or Nothing
Ibrahim Maalouf - Diagnostic - Mi'ster
Louai alhenawi mawal/ah ya helo
Nizar Al Issa - Nizar Al Issa
Ween ala Ramallah
Nizar Al Issa - Nizar Al Issa
Dal'ouna on the Return
Gilad Atzmon & The Orient House Ensemble - Exile - Enja
Mandira Hijaz
Ramzi Aburedwan & Dal'ouna Ensemble - Oyoun Al Kalaam - Independent
Asfour
Ramzi Aburedwan & Dal'ouna Ensemble - Oyoun Al Kalaam - Independent
Solea
Miles Davis - Sketches of Spain - Columbia
Piano Concerto no. 1 in g minor Op. 43
Ludomir Rozycki/Jonathan Plowright, BBC Scottish Symphony Orchestra, Lkuasz Borowicz - The Romantic Piano Concerto vol. 67 - Hyperion