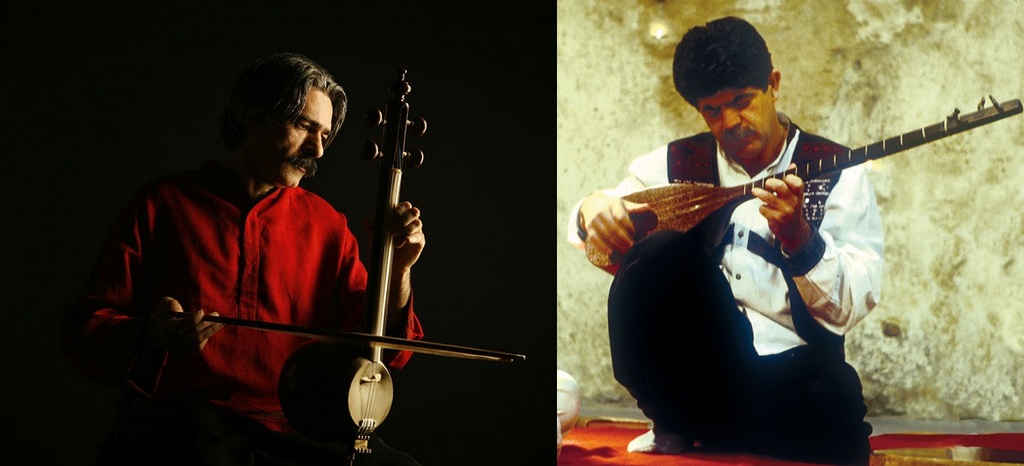 David Dalle
Thursday August 11th, 2016 with David Dalle
A look back at an older favourite, Kayhan Kalhor and Ali Akbar Moradi, new European Jazz, Vieux Farka Toure and other African music.
Today we are looking back at one of my favourite albums, a 2004 recording "In The Mirror of the Sky" with Persian kamenche virtuoso Kayhan Kalhor and Iranian Kurd Ali Akbar Moradi on tanbur, an instrument very closely associated with Kurdish Sufi mysticism. They are also joined by Pehman Hadadi on percussion. Mostly built out of improvisations this music is intensely passionate with incredible momentum. Ali Akbar Moradi sings at times, which almost sounds like an irrepressible reaction to the deep emotion of the music. We also hear some new jazz from a quartet of young European musicians called "Mount Meander" and their self-titled debut as well as some African music including Vieux Farka Toure's debut album which featured some electrifying guitar by his father, some of the final recordings from Ali Farka. Vieux Farka Toure will be performing in Gatineau in September.
Sar Aghaz
Kayhan Kalhor, Ali Akbar Moradi, Pejman Hadadi - In the Mirror of the Sky - World Village
Showgh
Kayhan Kalhor, Ali Akbar Moradi, Pejman Hadadi - In the Mirror of the Sky - World Village
Maqam-e Gel-e wa Darreh-avaz
Kayhan Kalhor, Ali Akbar Moradi, Pejman Hadadi - In the Mirror of the Sky - World Village
Gol wa Khuk-Mogadameh
Kayhan Kalhor, Ali Akbar Moradi, Pejman Hadadi - In the Mirror of the Sky - World Village
Maqam-e Gol wa Khuk
Kayhan Kalhor, Ali Akbar Moradi, Pejman Hadadi - In the Mirror of the Sky - World Village
Gel-e wa Darreh-foroud
Kayhan Kalhor, Ali Akbar Moradi, Pejman Hadadi - In the Mirror of the Sky - World Village
Majnooni-Bedaah-e bar Asaas-e Naghmeh Panj Zarbi
Kayhan Kalhor, Ali Akbar Moradi, Pejman Hadadi - In the Mirror of the Sky - World Village
Maqam-e Alwand-avaz
Kayhan Kalhor, Ali Akbar Moradi, Pejman Hadadi - In the Mirror of the Sky - World Village
Foroud
Kayhan Kalhor, Ali Akbar Moradi, Pejman Hadadi - In the Mirror of the Sky - World Village
Choopi
Kayhan Kalhor, Ali Akbar Moradi, Pejman Hadadi - In the Mirror of the Sky - World Village
Vieux Farka Toure appearing in Gatineau on September 22nd
http://www.spectacle.ca/vieux-farka-toure/
Tabara
Vieux Farka Toure ft. Ali Farka Toure - Vieux Farka Toure - World Village
Diallo
Vieux Farka Toure ft. Ali Farka Toure - Vieux Farka Toure - World Village
Dounuya
Mamadou Diabate ft. Abdoulaye Diabate - Tunga - Alula
Mpevo
Siama Matuzungidi - Rivers - Independent

Avijota
Bonga - Katendu - Celluloid
Simentera - Azagua
Simentera - Cabo Verde en serenata - Piranha
Sunsail part #1
Karlis Auzins, Lucas Leidinger, Tomo Jacobsen, Thomas Sauerborn - Mount Meander - Clean Feed Records

Sunsail part #2
Karlis Auzins, Lucas Leidinger, Tomo Jacobsen, Thomas Sauerborn - Mount Meander - Clean Feed Records

Sunsail part #3
Karlis Auzins, Lucas Leidinger, Tomo Jacobsen, Thomas Sauerborn - Mount Meander - Clean Feed Records

Chhia-cham
Carate Urio Orchestra - Ljubljana - Clean Feed Records