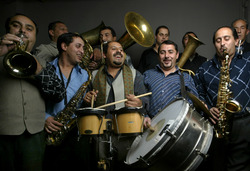 David Dalle
Thursday June 2nd, 2016 with David Dalle
Fanfare Ciocarlia from obscurity in rural Romania to world domination
It is with extreme pleasure that I am able to say that Fanfare Ciocarlia, the famed Romani brass band from Romania will be performing in Ottawa for the first time in a few weeks at the Ottawa Jazz Festival! Unlike some other famous Romani brass bands like Boban Markovic Orkester from Serbia, Fanfare Ciocarlia were completely unknown outside of their tiny farming village in rural Romania where they farmed or did other work for a living, but played music for all the weddings, funerals and other celebrations around the village. There was a location "ethnomusicological" recording of the band made in 1989 and released by Buda music in France, but it was not until 1996 that they were discovered by German Henry Ernst and brought to play in Germany. Since then they have exploded internationally. I saw them twice at the Montreal Jazz Festival in their first North American appearance in 1998, and again in Toronto in 2012. This will be their first Ottawa appearance (I believe). THEY ARE A PHENOMENAL LIVE EXPERIENCE!!! We will hear a retrospective from their first recording in 1989 up to the album "Devil's Tale" they recorded in Toronto with Canadian guitarist Adrian Raso who will be appearing with them.
http://ottawajazzfestival.com/artists/fanfare-ciocarlia/
Westfest is taking place this weekend in Laroche Park in Hintonburg, and the Souljazz Orchestra is headlining Saturday night with a long set 9-11pm. and ALL FREE!
http://www.westfest.ca/schedule
Batuta
Fanfare Ciocarlia - Fanfare Paysanne de Zece Prajini - Buda
Ciocarlia si Suite
Fanfare Ciocarlia - Radio Pascani - Piranha
Lume, Lume si Hora
Fanfare Ciocarlia - Baro Biao - Piranha
Sirba de la lasi
Fanfare Ciocarlia - Baro Biao - Piranha
Besh O Drom
Fanfare Ciocarlia - Iag Bari - Piranha
C'est la vie
Adrian Raso & Fanfare Ciocarlia - Devil's Tale - Asphalt Tango

Nijaay
The Souljazz Orchestra - Solidarity - Strut

Zina Hlima
Fanfarai - Tani - Tour'n'Sol
Nakelavishe
Fanfare Ciocarlia with Esma Redzepova - Queens and Kings - Asphalt Tango
Pana Cand Nu Te Iubeam
Fanfare Ciocarlia with Mitsou - Queens and Kings - Asphalt Tango
Die Zelle in Nonnenwerth for violin and piano
Franz Liszt/Trio Wanderer - Smetana Piano Trio/Liszt Elegies - Harmonia Mundi
Cafe con leche
Adrian Raso & Fanfare Ciocarlia - Devil's Tale - Asphalt Tango

Django
Adrian Raso & Fanfare Ciocarlia - Devil's Tale - Asphalt Tango

Que Dolor
Fanfare Ciocarlia with Kaloome - Queens and Kings - Asphalt Tango
Agoya
The Souljazz Orchestra - Inner Fire - Strut

Concierto a tres
Lili Martinez, Chucho Valdes, Frank Fernandez - Cuban broadcast
Chalabati
The Splendid Master Gnawa Musicians of Morocco featuring Randy Weston - The Splendid Master Gnawa Musicians of Morocco featuring Randy Weston - Verve
Unknown
Abdessadeq Cheqara - Unknown