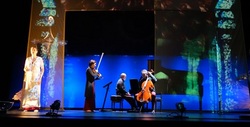 David Dalle
Thursday June 9th, 2016 with David Dalle
Christos Hatzis' "Constantinople" for Piano Trio, Soprano, Arabic soloist, electronics
On today's show we will hear Byzantium Greek and Serbian chants, Sufi songs transforming into Blues, solo singers interacting with their own eletronically processed voices, meditations on death and dying with the Dies Irae touching on electronica, Tango. And all this in a single piece of music: Christos Hatzis' extraordinary "Constantinople". It began life as a Piano Trio(!) commissioned by the Gryphon Trio and came to encompass a vast 70 minute multimedia work for Piano Trio, electronics, and a Soprano and Arabic singer. Christos Hatzis draws upon an enormous number of musical and cultural threads and weaves music of captivating drama and exceptional beauty. And most exciting of all, this work is receiving a single Canadian performance this summer, at the Ottawa Chamber Music Festival! August 2nd. Performed by the Gryphon Trio and singers Patricia O'Callaghan and Maryem Hassan Tollar who also recorded the piece for Analekta which we hear today.
www.chamberfest.com/concerts/2016-0802-04/
Constantinople: Creeds
Christos Hatzis/Patricia O'Callaghan, Maryem Hassan Tollar, Gryphon Trio - Constantinople - Analekta

Constantinople: Kyrie
Christos Hatzis/Patricia O'Callaghan, Maryem Hassan Tollar, Gryphon Trio - Constantinople - Analekta

Constantinople: Odd World
Christos Hatzis/Patricia O'Callaghan, Maryem Hassan Tollar, Gryphon Trio - Constantinople - Analekta

Constantinople: Ah Kalleli!
Christos Hatzis/Patricia O'Callaghan, Maryem Hassan Tollar, Gryphon Trio - Constantinople - Analekta

Constantinople: Dance of the Dictators
Christos Hatzis/Patricia O'Callaghan, Maryem Hassan Tollar, Gryphon Trio - Constantinople - Analekta

Constantinople: On Death and Dying
Christos Hatzis/Patricia O'Callaghan, Maryem Hassan Tollar, Gryphon Trio - Constantinople - Analekta

Constantinople: Old Photographs
Christos Hatzis/Patricia O'Callaghan, Maryem Hassan Tollar, Gryphon Trio - Constantinople - Analekta

Constantinople: Alleluia
Christos Hatzis/Patricia O'Callaghan, Maryem Hassan Tollar, Gryphon Trio - Constantinople - Analekta

Epirotiko Mirologi
Alexis Zoumbas - A Lament for Epirus 1926-1928 - Angry Mom Records
Nocturnal Silence
Issa Hassan - So bouzouk - Institut du Monde Arabe
And They Still Move
Colin Stetson and Sarah Neufeld - Never Were The Way She Was - Constellation Records

Piano Trio in G K564
Wolfgang Amadeus Mozart/Beaux Arts Trio - The Complete Piano Trios - Philips Classics