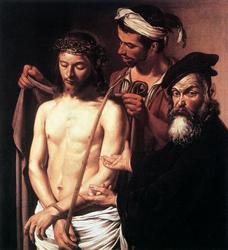 David Dalle
Thursday March 24th, 2016 with David Dalle
Krzyzstof Penderecki's St Luke Passion
For my annual show before Good Friday, I draw upon the incredibly rich tradition of music for and inspired by the Passion and Easter. This year, we will hear a setting of the Passion according to St. Luke by the great Polish composer Krzyzstof Penderecki. His St. Luke Passion was composed in 1966 and became a seminal work both in his own career and in 20th century choral music. The St. Luke Passion is mostly atonal and makes extensive use of Penderecki's experimental musical language, many tone clusters and unusual effects from the large orchestra, but it is primarily a virtuoso choral work. Penderecki really stretches the choir as they laugh, shout, hiss etc while they play many characters from the angry mob mocking Christ and screaming for his crucifixion to expressing the anguish of Christ. Penderecki composed this Passion knowing it would be compared to Bach's two Passion settings, two great summits of Western music, and in this he follows the general plan used by Bach in his settings. The St Luke Passion story is told by a narrator (the evangelist) with choruses and arias and uses additional texts from the Catholic liturgy chosen to emphasize the drama or emotion of a scene such as hymns and the Stabat Mater. He also literally infuses the music St Luke Passion with Bach by using the b-a-c-h motif (B flat, A, C, B natural)—which Bach himself used as well as many other composers--extensively throughout the piece. Despite the experimental and modernist musical language of Penderecki, he uses it to follow and express the intense drama and emotion of the Passion. The St Luke Passion was an enormous success both with audiences and critics after its premiere and received many international performances and continues to have an immediate, profound reaction on listeners.
St Luke Passion
Krzyzstof Penderecki/Izabella Kosinska, Adam Kruszewski, Romuald Tesarowicz, Krzysztof Kolberger, Jaroslaw Malanowicz, Warsaw Boys Choir, Warsaw National Philharmonic Choir and Orchestra, Antoni Wit - St Luke Passion - Naxos
The Feeling Begins
Peter Gabriel - Passion - Realworld
Mawwal
Jamal Khleif - Jordan - Bedouin songs, Wedding songs, Fishermen's songs from Aqaba - Inedit
A Different Drum
Peter Gabriel - Passion - Realworld
St. John Passion: I Chorus Herr, Unser Herrscher
Johann Sebastien Bach-Hughes de Courson/Pierre Akendengue with Nana Vasconcelos et al. - Lambarena Bach to Africa - Sony Classical
La Pasion Segun San Marcos: 26 - Lua descolorida (Aria de las lagrimas de Pedro)
Osvaldo Golijov/Biella Da Costa, Jessica Rivera, Reynaldo Gonzalez-Fernandez, Gioconda Cabrera, Manolo Mairena, Alex Alvear, Schola Cantorum de Venezuela, Orquesta La Pasion, Members of the Simon Bolivar Youth Orchestra of Venezuela, Maria Guinand - La Pasion Segun San Marcos - Deutsche Grammophon
If the Moon Loves You
The Master Musicians of Jajouka - Live Volume 1 - Jajouka Records