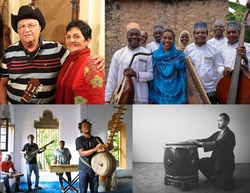 David Dalle
Thursday March 31st, 2016 with David Dalle
Traversing the globe with new releases from Eliades Ochora, Kaoru Watanabe, Msafiri Zawose, Rajab Suleiman and more
Today we venture across the globe with some new and recent releases as well as some older favourites. Including a new release from Buena Vista Social Club star Eliades Ochoa in a release with his older sister Maria Ochoa's group Alma Latina. Japanese-American multi-instrumentalist Kaoru Watanabe who played in Kodo for many years with his own group Neo in a new album of contemporary works for Japanese percussion, flutes and other traditional instruments. Also two new releases of very different music traditions found in Tanzania: Msafiri Zawose, son of the great Gogo musician Hukwe Zawose, and his group perform music on traditional Gogo instruments including the Ilimba, a thumb piano, Izezes, a bowed instrument and other instruments; singer Saada Nassor, Qanun player Rajab Suleiman and their group Kithara perform the heavily Arab and Indian influenced Taarab music. We will hear some popular Sufi Rock from the Mekaal Hasan Band based in Lahore, Pakistan and other music from around the world.
Together Alone
Kaoru Watanabe - Neo - Independent

Shinobu
Kaoru Watanabe - Neo - Independent

Tapna Kervan Prtav
Arsen Petrosyan - Charentsavan: Music for Armenian Duduk - Pomegranate Music
River Bend
Karavan Sarai - Woven Landscapes - CD Baby
Khammaj Syrtos
Ross Daly - The Other Side - CD Baby
Dancing in Madness
Anoushkha Shankar - Traveller - Deutsche Grammophon
Maalkauns
Mekaal Hasan Band - Andholan - Times Music
Take Five
Dave Brubeck/Sachal Studios Orchestra - Sachal Jazz - Sachal Studios
Do not miss the film "Song of Lahore" following the Sachal Studios musicians in Lahore, Pakistan, to their trip to the Lincoln Center Jazz series in New York City where they played with Wynton Marsalis. Playing at the Bytowne Cinema April 22nd through 26th! www.bytowe.ca
Afro-Funk
Chucho Valdes - Tribute to Irakere - Jazz Village

Rumberito Baila
Eliades Ochoa, Maria Ochoa & Alma Latina - Guajira mas Guajira - Tumi

Asili Yangu
Msafiri Zawose - Mbotela - Tate Music Group
Bila Mgonjwa
Msafiri Zawose - Mbotela - Tate Music Group
Salaam Aleikum
Rajab Suleiman & Kithara - Zanzibara 8 - Chungu - Buda
Ridhika
Rajab Suleiman & Kithara - Zanzibara 8 - Chungu - Buda
La Querelle au Serail
Wolfgang Amadeus Mozart - Hughes de Courson - Mozart l'egyptien 2 - Ballon Noir