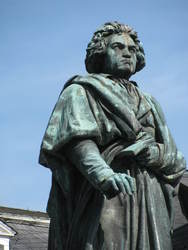 David Dalle
Thursday November 19th, 2015 with David Dalle
More from Shujaat Husain Khan & Katayoun Goudarzi; Beethoven; music from Western Sahara, Algeria, France, Lebanon.
Today we hear a wide range of music from Algeria, France, Lebanon, the Western Sahara, as well as an extraordinary performance of Beethoven's piano sonata in E Op. 109 by one of the most obscure, yet possibly the greatest pianist to ever record Beethoven's music: Ernst Levy. A little reminder that nothing expresses the very best in humanity like music.
Piyyout
Albert Bouhadanna, Arab-Andalusian Orchestra of Mohamed Briouel - Hamdulillah - Fes Festival of World Sacred Music vol. 2 - Sounds True
El Hachemi
Houria Aichi - Under the Moroccan Sky - Sounds True
The Dance of Es Semara
Baba Salama - Sahrauis - A Pesar de Las Heridas - Nubenegra
The Sahara is a Treasure
Mariem Hassan - Sahrauis - A Pesar de Las Heridas - Nubenegra
Ayliw/Avavtmeghra
Cherifa - Algerie - Voix de Femmes - Blue Silver
Ma guitare et mon pays
Line Monty - Algerie - Voix de Femmes - Blue Silver
Les vestiges du passe
Issa Hassan - So Bouzouk - Institut du Monde Arabe
Sonata for cello and piano
Claude Debussy/Julian Steckel, Paul Rivinius - French Cello Sonatas - Deutschlandfunk
Beethoven's Op 109 will be performed in Ottawa this weekend by pianist Steven Massicotte along with Haydn and the great Liszt sonata more info at: https://www.facebook.com/events/909583189129750/

It is being performed again on Nov 28th by pianist Lucas Porter:
http://www.masterpianorecitalseries.com/concert-2015-03-en.php
Piano Sonata in E Op. 109
Ludwig Van Beethoven/Ernst Levy - Forgotten Genius vol. 4 - Marston Records
Bound
Shujaat Husain Khan & Katayoun Goudarzi - Ruby - Independent

Rapsodia espanola Op. 70
Isaac Albeniz/Melani Mestre, BBC Scottish Symphony Orchestra, Martyn Brabbins - The Romantic Piano Concerto vol. 65 - Hyperion

Leipzig Counterpoint
Raphael Imbert & Karol Beffa - Libres - Jazz Village