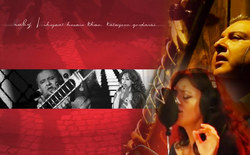 David Dalle
Thursday November 12th, 2015 with David Dalle
CKCU's 40th Birthday; Shujaat Husain Khan & Katayoun Goudarzi
Today we hear the continuing collaboration between Shujaat Husain Khan, the great sitar player and heir to the Imdadkhani gharana, and Persian singer Katayoun Goudarzi. Their new album, "Ruby", is their 5th album together. Shujaat Husain Khan has had a long interest in Persian music since he formed Ghazal with Kayhan Kalhor in 1997. This beautiful new album features an Indian ensemble with bansuri, tabla, sarangi, santur as well as Shujaat's sitar along with Goudarzi's vocals. Also we will celebrate CKCU's 40th birthday with a special piece of music. Frederic Rzewski's Variations on "The People United Will Never Be Defeated" from 1975.
Adrift
Shujaat Husain Khan & Katayoun Goudarzi - Ruby - Independent

Not Taken
Shujaat Husain Khan & Katayoun Goudarzi - Ruby - Independent

Serov Madzoum em Merel/Mcho gorani/Hanina
The Music Masters of Armenia - Traditional & Sacred Music & Songs - World Village
Ar intch lav er
Levon Minassian & Armand Amar - songs from a world apart - Long Distance
Ibn Arabi's Postlude
Kinan Azmeh & Dinuk Wijeratne with Rubin Khodell, Jesse Mills - Complex Stories, Simple Sounds - Independent
Ya wahiban
Waed Bouhassoun - La Voix de l'Amour - Institut du monde arabe
36 Variations on "The People United Will Never Be Defeated!"
Frederic Rzewski - Rzewski Plays Rzewski - Nonesuch