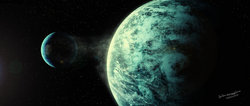 David Dalle
Thursday October 1st, 2015 with David Dalle
Wide range of Apocalyptic Balkan music; Indo-Arabic, Indo-Canadian, fusions, funk and jazz, Norway and Wagner
A wide range of music starting off with Wagner's Prelude from Tristan und Isolde leading into Apocalyptic Balkan music... I saw Lars von Trier's 2013 film Melancholia this week which takes place immediately before the end of the world and which makes extensive use of the Prelude. Don't worry, it's not the end of the world on today's show, we will lead to brighter, warmer music including some Indo-Canadian and Indo-Arabic fusions, some jazz and funk...
Act I, Prelude
Richard Wagner/Orchester der Bayreuther Festspiele, Karl Bohm - Tristan und Isolde - Deutsche Grammophon
Midnight Memories
Boris Kovac & Ladaaba Orchest - Ballads at the End of Time - Piranha
Buvayte Zdorovi
DakhaBrakha - Light - DakhaBrakha
Opre Gelem Pe Vulica
Amaro Suno - Alom a szememen - Fono
Triesta
Boris Kovac & La Campanella - World After History - Piranha
Choros
Ludovico Einaudi - Taranta Project - Ponderosa
The Curtain
Snarky Puppy & Metropole Orkest - Sylva - Impulse!
Cello Sonata in a minor Op. 36
Edvard Grieg/Steven Isserlis, Stephen Hough - Mendelsohn Grieg Hough Cello Sonatas - Hyperion
Parchan Shaal Panhwar
Sultans of String with Anwar Khurshid - Subcontintental Drift - McKhool


Lahore
Baligh Hamdi & Magid Khan - Indo-Arabic Variations - Buda
Achark
Baligh Hamdi & Magid Khan - Indo-Arabic Variations - Buda
Mehendi Rachi
Mumford & Sons, Laura Marling, & Dharohar Project - Mumford & Sons, Laura Marling, & Dharohar Project - Island