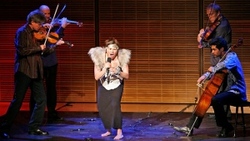 David Dalle
Thursday October 8th, 2015 with David Dalle
Derek Charke's Tundra Songs for the Kronos Quartet and Tanya Tagaq
Today I present again a magnificent recording from Canadian composer Derek Charke in pieces commissioned for the Kronos Quartet and Tanya Tagaq. The title piece, "Tundra Songs" is an epic work evoking a year in the Arctic, from winter to winter. It is a 30 minute unbroken work with 5 internal movements entitled I. Ice, II. Water, III. Sedna's Song, IV. Lament of the Dogs, V. The Trickster Tulugaq. Besides the extraordinarily varied string quartet throughout, it features Tanya Tagaq's throat singing in three of the five movements, and storytelling by Laakkuluk Williamson Bathory reciting her version of the Greenlandic creation story of Sassuma Arnaa in the 3rd movement. It also features extensive use of recorded sounds, most of them made in the Arctic by Derek Charke. The electroacoustic sounds are not providing a romanticized, idyllic view of the Arctic, but the sound of the Arctic now: not just the sounds of nature, but also machinery, snowmobiles, people, and the haunting howls of stray dogs. This work is extremely moving and intense, it grips you and leaves you breathless. Wonderful.
Tundra Songs: I. Ice
Derek Charke/Tanya Tagaq, Laakkuluk Williamson Bathory, Kronos Quartet - Tundra Songs - Canadian Music Centre

Tundra Songs: II. Water
Derek Charke/Tanya Tagaq, Laakkuluk Williamson Bathory, Kronos Quartet - Tundra Songs - Canadian Music Centre

Tundra Songs: III. Sedna's Song
Derek Charke/Tanya Tagaq, Laakkuluk Williamson Bathory, Kronos Quartet - Tundra Songs - Canadian Music Centre

Tundra Songs: IV. Lament of the Dogs
Derek Charke/Tanya Tagaq, Laakkuluk Williamson Bathory, Kronos Quartet - Tundra Songs - Canadian Music Centre

Tundra Songs: V. The Trickster Tulugaq
Derek Charke/Tanya Tagaq, Laakkuluk Williamson Bathory, Kronos Quartet - Tundra Songs - Canadian Music Centre

Anyplace
Ozere - Finding Anyplace - Independent


The Sun Ain't Down
Ozere - Finding Anyplace - Independent


Rakes of Mallow/Rouge River Valley
Sultans of String with Anwar Khurshid - Subcontinental Drift - McKhool


Tamana
Kiran Ahluwalia - Sanata:Stillness - Kiran Music

Parchan Shaal Panhwar
Sultans of String with Anwar Khurshid - Subcontinental Drift - McKhool


Mera Dil Hai Dilruba
Jaipur Kawa Brass Band - Dance of the Cobra - World Music Network
Serenity
The Souljazz Orchestra - Rising Sun - Strut Records

Greet The Dawn
The Souljazz Orchestra - Resistance - Strut Records


Ware Wa
The Souljazz Orchestra - Resistance - Strut Records


Chorale Ein fest Burg ist unser Gott BWV720
Johann Sebastien Bach/Christopher Herrick - The Clavierubung and other 'Great' Chorales - Hyperion
Cantata BWV80 Ein feste Burg ist unser Gott
Johann Sebastien Bach/Arleen Auger, Gabriele Schreckenbach, Lutz Michael Harder, Philippe Huttenlocher, Wurttembergisches Kammerochester Heilbronn, Bach-Collegium Stuttgart, Helmuth Rilling - Cantatas vol. 26 - Hanssler