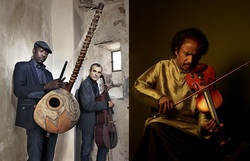 David Dalle
Thursday September 3rd, 2015 with David Dalle
Ballake Sissoko & Vincent Segal's brand new album; explosive Carnatic violinist L. Subramaniam
Kora and Cello with the new album from Ballaké Sissoko and Vincent Segal. Recorded in Bamako in January, half the pieces were recorded at night on the rooftop of Ballaké's house in the neighbourhood of Ntomikorobougou, home to many of Mali's musicians and artists. Their first album was recorded in 2009, at the start of their collaboration, 6 years later and after many tours together, this new album shows a much deeper mutual understanding--now a musical conversation between two old friends. Wonderful. We will also hear some explosive Carnatic violin from the great L. Subramaniam who will be making an extraordinarily rare appearance in Ottawa this Saturday! L. Subramaniam will be appearing with jazz pianist Vijay Iyer, both sharing Tamil background and a very adventurous approach to music. L. Subramaniam is a legend in Indian classical music and I can't remember the last time he was in Ottawa. Playing at one of Ottawa's best venues, the Shenkman Arts Centre and is very modestly priced ($35-$70). Not to be missed!
http://www.centrekabir.com/kc/en/ckcd31d94.html
Niandou
Ballake Sissoko & Vincent Segal - Musique de Nuit - Six Degrees

Passa Quatro para familia Ivan Vilela
Ballake Sissoko & Vincent Segal - Musique de Nuit - Six Degrees

Mamma La Rondinella
Ludovico Einaudi - Taranta Project - Ponderosa
Diabaro (feat. Babani Kone)
Ballake Sissoko & Vincent Segal - Musique de Nuit - Six Degrees

Alfa Maky
Mamany Kouyate - La voix d'or du Mali - Playasound
Aye Sira Bla
Bassekou Kouyate & Ngoni Ba - Ba Power - Glitterbeat Records

Wadjan
Amy Koita - Djiguy - Declic
Tonio Yima/Rirollal
Ludovico Einaudi - Taranta Project - Ponderosa
Samba Tomora
Ballake Sissoko & Vincent Segal - Musique de Nuit - Six Degrees

Musique de Nuit
Ballake Sissoko & Vincent Segal - Musique de Nuit - Six Degrees

Raga Gourimanohari: Ragam-Tanam-Pallavi
L. Subramaniam, L. Ambi Subramaniam, Mahesh Krishnamurthy, Satish Pathakota - Freer Sackler Concert Series - Smithsonian