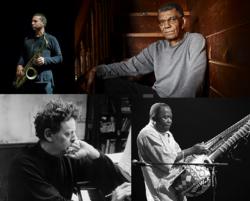 David Dalle
Thursday August 27th, 2015 with David Dalle
Jazz with Assif Tsahar; Philip Glass; Jack de Johnette & Foday Musa Suso; Doudou N'diaye Rose & Senegal
Today's show will cover a lot of ground with a mix of music with centered around two poles in Jazz and West African Music - Senegal and The Gambia in particular. Including Assif Tsahar's Project with saxophone, percussion, and a string quartet. Inspired by Duke Ellington's classic "Solitude", it takes jazz into an abyss of loss and yearning. Jazz drummer Jack de Johnette's collaboration with Gambian Kora player Foday Musa Suso; Philip Glass' own performance of his piano compositions; music from Senegal including the great drummer Doudou N'diaye Rose and more.
Solitude
Assif Tsahar, Tatsuya Nakatani, KJLA String Quartet - Solitude - Hopscotch Records
Love Is
Assif Tsahar, Tatsuya Nakatani, KJLA String Quartet - Solitude - Hopscotch Records
Unmoving
Assif Tsahar, Tatsuya Nakatani, KJLA String Quartet - Solitude - Hopscotch Records
Mad Rush
Philip Glass - Solo Piano - CBS
I Thought About You
Keith Jarrett, Gary Peacock, Jack DeJohnette - Somewhere - ECM
Ancient Techno
Jack DeJohnette & Foday Musa Suso - Music From the Hearts of the Masters - Golden Beams
Kaira
Jack DeJohnette & Foday Musa Suso - Music From the Hearts of the Masters - Golden Beams
The Epistemology of Loss
Assif Tsahar, Tatsuya Nakatani, KJLA String Quartet - Solitude - Hopscotch Records
Solitude
Duke Ellington and his Orchestra - The Works of Duke vol. 8 - RCA
Cheikh Anta Diop
Doudou N'diaye Rose - Djabote - Realworld
Withiaxou
Fallou Dieng - Medina - Stern's
Kolankoma
Sekou Diabate & Djanka Diabate - Samba Gaye - Dakar Sound
La Iguana
Peregoyo y Su Combo Vacana - El Rey Del Currulao - Otrabanda
El carretero
Fabian Delgado - Repentistas: Word Keepers and Cowboys - Accords croises
Sunjatta Keita
Jack DeJohnette & Foday Musa Suso - Music From the Hearts of the Masters - Golden Beams
Kara
Alioune Kasse - Exsina - Tinder Records
Sidati Aidara
Doudou N'diaye Rose - Djabote - Realworld