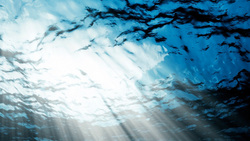 David Dalle
Thursday April 9th, 2015 with David Dalle
Music for a Frozen Land Part III: The Great Thaw
This is the third and final episode looking at the music of American composer John Luther Adams. Today we look at one of his most recent and greatest works, "Become Ocean" for orchestra. Adams, who has worked as a conservation officer, spent most of his adult life living in rural Alaska where he has drawn inspiration from the vast Arctic landscapes and native people of the far north. Environmental concerns and particularly climate change are preoccupations for Adams and are a critical threat to the Arctic biosphere (and indeed, the world). This is the motivation behind this magnificent, overwhelming piece for large orchestra. This music completely engulfs the listener in a roiling ocean of sound which builds and subsides in great waves. You become submerged and enraptured by this most beautiful of cathartic experiences. A masterpiece. Music from the earth as it becomes ocean. Part I can be heard on-demand here:
http://cod.ckcufm.com/programs/105/20296.html
Part II can be heard on-demand here:
http://cod.ckcufm.com/programs/105/20765.html
http://johnlutheradams.net/
We will also hear from Norwegian musician Terje Isungset's new album "Meditations" recorded mostly in various locations in the Arctic circle in Norway, Canada, Russia, and Greenland using ephemeral instruments he creates from ice. As well, Norwegian singers and musicians Agnes Buen Garnas, Mari Boine, Jan Garbarek.
Become Ocean
John Luther Adams/Seattle Symphony, Ludovic Morlot - Become Ocean - Cantaloupe Music
Northwest Passage
Terje Isungset - Meditations - All Ice Records

Glacial Motion
Terje Isungset - Meditations - All Ice Records

Psalm
Jan Garbarek Group with Agnes Buen Garnas - Twelve Moons - ECM
There Were Swallows...
Jan Garbarek Group - Twelve Moons - ECM
Darvanan
Jan Garbarek Group with Mari Boine - Twelve Moons - ECM
Inuit Living
Terje Isungset - Meditations - All Ice Records

Allah La ke
Ablaye Cissoko - Le griot rouge - Ma Case
Mam'Bia E So Mi
Cesaria Evora - Nha Sentimento - Lusafrica
Retrato
Mariza - Fado Curvo - Times Square Records
A Speech To The Sea
Fred Hersch Trio - Floating - Palmetto
Last week on my Passion show we heard the breathtaking Aria of Peter's Lament after he denies Christ three times from Bach's St. Matthew Passion. So I thought Peter's Lament in the gorgeous Aria from Golijov's St. Mark Passion would be wonderful to hear this week. You can still listen to the entire St. Mark Passion from Argentinian composer Osvaldo Golijov from last year's Passion show on-demand:
http://cod.ckcufm.com/programs/105/16618.html
La Pasion Segun San Marcos - 26. Lua descolorida (Aria de las lagrimas de Pedro)
Osvaldo Golijov/Jessica Rivera, Simon Bolivar Youth Orchestra of Venezuela, Maria Guinand - La Pasion Segun San Marcos - Deutsche Grammophon