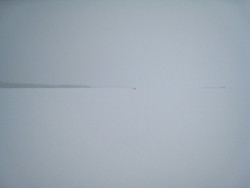 David Dalle
Thursday January 8th, 2015 with David Dalle
Music for a Frozen Land Part I
On this very cold January day, we look at the first of three shows devoted to the extraordinary, unique music of American composer John Luther Adams. John Luther Adams has spent most of his adult life living in rural Alaska and the rugged, vast, and frozen landscapes of the Arctic have been a central inspiration to him and are almost magically captured in this work of aching beauty and spiritual stillness. In the White Silence was composed in 1998 as a memorial to his mother. In Adams' own words: White is not the absence of color: It is the fullness of light. Silence is not the absence of sounds. It is the presence of stillness. As the Inuit have known for centuries and as the painters from Malevich to Ryman have shown us more recently, whiteness embraces many hues, textures, and nuances. As John Cage reminded us, silence does not literally exist. Still, in a world going deaf with human noise, silence endures as a deep and resonant metaphor. In his Poetics of Music Stravinsky speaks of music as a form of philosophical speculation. But Music can also be a form of contemplation: the sensual reaching for the spiritual. I aspire to music that is both rigorous in thought and sensuous in sound. I've long been obsessed with the notion of music as place and place as music. The treeless windswept expanses of the Arctic are enduring creative touchstones for my work and In the White Silence is an attempt to evoke an enveloping musical presence equivalent to that of a vast tundra landscape. But I want to go beyond the landscape painting with tones, beyond language, metaphor and the extra-musical image. I want to leave the composition, the "piece" of music, for the wholeness of music. I no longer want to be outside the music, listening to it as an object apart. I want to inhabit the music, to be fully present and listening in that immeasurable space that Malevich called "a desert of pure feeling". --John Luther Adams This show is dedicated to Mark Valcour.
In the White Silence
John Luther Adams/The Oberlin Contemporary Music Ensemble, Tim Weiss - In the White Silence - New World Records
Mehriban Olaq
Kronos Quartet with the Alim Qasimov Ensemble - Music of Central Asia vol. 8 Rainbow - Smithsonian Folkways
Falak
Badakhshan Ensemble - Music of Central Asia vol. 5 Song and Dance from the Pamir Mountains - Smithsonian Folkways
Kerbez
Nurak Abdirakhmanov - Shuudungut's Road - Frequency Glide Enterprises
Alymkan
Baktybek Shatenov - Shuudungut's Road - Frequency Glide Enterprises
Odugen Taiga
Huun-Huur-Tu - Ancestors Call - World Village
Dour Mashaw
Davlatmand Kholaf, Abdoussattar Abdoullaev - Music from East Tadjikestan - Kargha-e-Mousighi