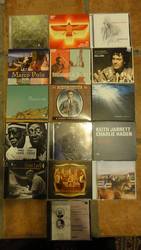 David Dalle
Thursday January 1st, 2015 with David Dalle
Some of my favourites from 2014 and other music from Ethiopia, Egypt, Mali, Morocco and more
Happy New Year! Today I will look at a few of my 2014 favourites in music, my full list can be seen here:
https://www.facebook.com/DaveDalleShow
I also have Mali and Ethiopia on the mind and we'll hear some great music from there as well as the latest volume in Hyperion's magnificent Romantic Piano Concerto series. Volume 64 is the 2nd in the series to look at a Portuguese composer and I am happy to say that as with the first, it is a very strong release in the series with a concerto from around 1890 by Portuguese composer Alfredo Napoleao. It is an unusual piece with the first movement being mostly a slow movement and definite traces of "Saudade", the specific sense of nostalgia and melancholy which enfuses Fado, which arose during Napoleao's lifetime.
Initiation
The Souljazz Orchestra - Inner Fire - Strut

Kingdom Come
The Souljazz Orchestra - Inner Fire - Strut

Alemye
Mahmoud Ahmed - Ethiopiques vol. 19 Alemye - Buda
I Faram Gami I Faram
Mulatu Astatke - Mulatu Steps Ahead - Strut
Where Can I Go Without You
Keith Jarrett & Charlie Haden - Last Dance - ECM
Hamadoun Toure
Toumani Diabate & Sidiki Diabate - Toumani & Sidiki - World Circuit
Tahalamot
Tinariwen - Emmaar - Wedge
Nubian
Raquy and the Cavemen - Jordan - CD Baby
Al-Firaq
Ensemble Roudaniyat - al-Hal - Zimbraz
Sir bina Ya Qitar
Musicians of the Nile - Down By The River - Long Distance
Piano Concerto No. 2 in E flat major Op. 31
Alfredo Napoleao/Artur Pizarro, BBC National Orchestra of Wales, Martyn Brabbins - The Romantic Piano Concerto vol. 64 - Hyperion

Revati
Arun Ramamurthy Trio - Jazz Carnatica - Arun Ramamurthy
In Xanadu
Kyriakos Kalaidzidis, En Chordais, Ensemble Constantinople - The Musical Voyages of Marco Polo - World Village/Harmonia Mundi