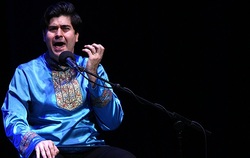 David Dalle
Thursday November 20th, 2014 with David Dalle
Persian music with Salar Aghili; Carnatic-Hindusthani-Rajasthani-Jazz fusions with Shashank, Arun Ramamurthy
We begin today's show with Havaye Aftab, a piece by sung by the powerful Persian singer Salar Aghili with the Ghamar Ensemble led by Barbat player Navid Dehghan. Salar Aghili will be performing in Ottawa on Saturday, December 13th at the University of Ottawa. For his performance he will be joined by Iranian Tar player Keyvan Saket and the Persian-Canadian Baarbad Ensemble from Toronto. Salar Aghili is a wonderful singer I've heard several times before, and I can't wait to hear him again. We also hear two fascinating Carnatic-based fusions. The first is an all-Indian fusion with Carnatic flautist Shashank joining with Hindusthani sitarist Subendra Rao, Rajasthani folk singer Anwar Khan and Kamancha player Ghewar Khan, and joined by three percussionists from all three traditions on mridangam, tabla, dholak. The second is the terrific recent album from the Arun Ramamurthy Trio, a Carnatic-Jazz trio with Arun Ramamurthy on Carnatic violin joined by doublebass and drums which we've heard before, but definitely worth hearing more from.
Tasnif-e Gholam-E Ghamar
Salar Aghili, Navid Dehghan & Ghamar Ensemble - Havaye Aftab - Barbad Music
Saz-o Avaz-e Mahur
Salar Aghili, Navid Dehghan & Ghamar Ensemble - Havaye Aftab - Barbad Music
Tasnif-e Havaye Aftab
Salar Aghili, Navid Dehghan & Ghamar Ensemble - Havaye Aftab - Barbad Music
Avaz-e Rak
Salar Aghili, Navid Dehghan & Ghamar Ensemble - Havaye Aftab - Barbad Music
Tasnif-e Abr
Salar Aghili, Navid Dehghan & Ghamar Ensemble - Havaye Aftab - Barbad Music
Barbat solo
Salar Aghili, Navid Dehghan & Ghamar Ensemble - Havaye Aftab - Barbad Music
Tasnif-e Divaneye Mast
Salar Aghili, Navid Dehghan & Ghamar Ensemble - Havaye Aftab - Barbad Music
Folk Song - Rag Misra Kafi
Shashank Subramanyam, Anwar Khan, Subedra Rao, Phalgun, Firoze Khan, Chandrajit, Ghewar Khan - Spirit of Krishna - FTI
Maha G
Arun Ramamurthy Trio - Jazz Carnatica - Arun Ramamurthy

4th Dimension
Arun Ramamurthy Trio - Jazz Carnatica - Arun Ramamurthy

Kalyana Gopala & Mayya Mora Lal - Rag Sindu Bhairavi
Shashank Subramanyam, Anwar Khan, Subedra Rao, Phalgun, Firoze Khan, Chandrajit, Ghewar Khan - Spirit of Krishna - FTI
Konzertsuck Op. 79
Carl Maria Von Weber transcribed Franz Liszt/Leslie Howard - The complete music for solo piano vol. 49 - Schubert and Weber Transcriptions - Hyperion