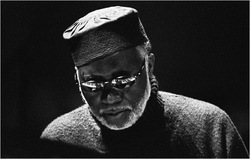 David Dalle
Thursday November 13th, 2014 with David Dalle
Ahmad Jamal's quartet in concert; new album from Lo'Jo; WWI music from Brazil
First off, AN ENORMOUS THANK YOU to everyone who made this a record year for CKCU's funding drive and a record year for my program!!! After 2+ weeks of intense funding drive activity, today I am going to mostly step away from the mic and simply indulge in some wonderful music. We will hear the first of two programs featuring a concert by the Jazz elder Ahmad Jamal at the Olympia in Paris. Newly released as a 2CD+DVD it features his quartet with Reginald Veal on doublebass, Herlin Riley and Manolo Badrena on drums and percussion, and himself on piano of course. The 2nd half which we will hear on a later program he is joined by guest Saxophonist and multi-instrumentalist Yusef Lateef. We will also hear Lo'Jo's new album "310 Lunes", referring to the 310 moons which have passed since their founding in 1982. It is a double album featuring both Lo'jo's first recording and their newest, with the new recordings being all wind and brass arrangements of their repertoire with many guests, and a reissue of their nearly unobtainable first lp from 1989 "The International Courabou". Fantastic stuff! Lastly, we will hear some music from World War I, but from a very unusual place. Brazil declared war on the Central Powers in 1917 after Germany's unrestricted submarine warfare on Brazilian merchant ships, much the same as the US in 1917. Unlike the US, Brazil's direct engagement in WWI was very limited before the armistice was reached in November 1918, however, it did have a significant impact on Brazilian society and economy, greatly increasing the industrial side of Brazil. Brazilian composer Heitor Villa-Lobos composed a trilogy of symphonies in 1919, commissioned for a 1920 visit to Brazil by the Belgium King and Queen. The three symphonies were named "War", "Victory", and "Peace" (which, ironically, has been lost).
Autumn Rain
Ahmad Jamal, Reginald Veal, Herlin Riley, Manolo Badrena - Ahmad Jamal Featuring Yusef Lateef - Jazz Village

Blue Moon
Ahmad Jamal, Reginald Veal, Herlin Riley, Manolo Badrena - Ahmad Jamal Featuring Yusef Lateef - Jazz Village

The Gypsy
Ahmad Jamal, Reginald Veal, Herlin Riley, Manolo Badrena - Ahmad Jamal Featuring Yusef Lateef - Jazz Village

Invitation
Ahmad Jamal, Reginald Veal, Herlin Riley, Manolo Badrena - Ahmad Jamal Featuring Yusef Lateef - Jazz Village

Morning Mist
Ahmad Jamal, Reginald Veal, Herlin Riley, Manolo Badrena - Ahmad Jamal Featuring Yusef Lateef - Jazz Village

Au bar des Lilas
Lo'Jo - 310 Lunes - World Village

Quelqu'un d'elle
Lo'Jo - 310 Lunes - World Village

Triste Lucha
Abelardo Barroso with orquestra sensacion - Cha Cha Cha - World Circuit/Nonesuch

Do Gory Nogami
Lo'Jo - 310 Lunes - World Village

Karpatskyi Rep
DakhaBrakha - Light - DakhaBrakha
The International Courabou
Lo'Jo - 310 Lunes - World Village

Symphony No. 3 'War'
Heitor Villa-Lobos/Sao Paulo Symphony Orchestra, Isaac Karabtchevsky - Symphonies Nos. 3 and 4 - Naxos