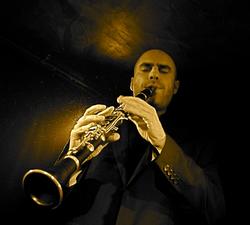 David Dalle
Thursday November 27th, 2014 with David Dalle
The Silence of Exodus
Today we will hear one of the most spectacular new albums I've heard in a while, "Le silence de l'Exode" by French clarinetist Yom. Yom composed this instrumental quartet to commune with the founding myth of the Jewish people. Originally commissioned for a stage at the Isle de France festival in Paris; it was written for the unusual combination of clarinet, cello, doublebass, and Iranian percussion (zarb, daf, bendir) and performed by Yom, Farid D, Claude Tchamitchian, Bijan Chemirani respectively. It is a work of searing Biblical intensity and haunting beauty. Magnificent!
Le Silence de l'Exode 1 - Ramses
Yom - Le Silence de l'Exode - Buda musique

Le Silence de l'Exode 2 - rouge
Yom - Le Silence de l'Exode - Buda musique

Le Silence de l'Exode 3 - révélation
Yom - Le Silence de l'Exode - Buda musique

Le Silence de l'Exode 4 - errance
Yom - Le Silence de l'Exode - Buda musique

Le Silence de l'Exode 5 - chaos
Yom - Le Silence de l'Exode - Buda musique

Le Silence de l'Exode 6 - sarab
Yom - Le Silence de l'Exode - Buda musique

Le Silence de l'Exode 7 - l'eau jailie du rocher
Yom - Le Silence de l'Exode - Buda musique

Le Silence de l'Exode 8 - Sinai
Yom - Le Silence de l'Exode - Buda musique

Le Silence de l'Exode 9 - ivresse
Yom - Le Silence de l'Exode - Buda musique

Le Silence de l'Exode 10 - solitude 1
Yom - Le Silence de l'Exode - Buda musique

Le Silence de l'Exode 11 - mémoires
Yom - Le Silence de l'Exode - Buda musique

Le Silence de l'Exode 12 - silence
Yom - Le Silence de l'Exode - Buda musique

Le Silence de l'Exode 13 - solitude 2
Yom - Le Silence de l'Exode - Buda musique

Le Silence de l'Exode 14 - Moïse
Yom - Le Silence de l'Exode - Buda musique

The Desert Speaks
Zebrina - Hamidbar Medaber - Tzadik


Lekho Neraneno
Itzhak Perlman with Brave Old World - Live in the Fiddler's House - Angel
Ronak
Bijan Mortazavi - Rangin Kaman - Avang
Viens ma bien-aimee
Keyvan Chemirani, Francoise Atlan - Le rythme de la parole - Accords Croises
Echanson
Keyvan Chemirani, Bijan Chemirani, Halil Neciboglu, Kudsi Erguner - Le rythme de la parole - Accords Croises
Renoncement
Keyvan Chemirani, Bijan Chemirani, Nahawa Doumbia, Neba Solo - Le rythme de la parole - Accords Croises
Ahle nazar qi ankh ka tara Ali
Keyvan Chemirani, Bijan Chemirani, Faiz Ali Faiz - Le rythme de la parole - Accords Croises