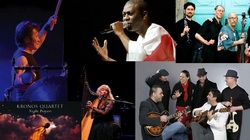 David Dalle
Thursday October 23rd, 2014 with David Dalle
Celebrating 20 years on CKCU with an all 1994 program!
This year marks my 20th year on-air at CKCU. Today I will celebrate with a show featuring only music released in 1994, my first year on-air. Some albums are truly landmark albums in their musical tradition, as well as for my show and for my own musical development. The show will be comprised of 2 longish sets of music, both full of diversity and with musical selections from all over the world. The first begins in China and Japan and is more sombre in mood ending with a spectacular piece for string quartet and tape by Georgian composer Giya Kancheli and the titletrack from the Kronos Quartet's 1994 album. The 2nd set begins with the ambivalent reflection by Brave Old World on German reunification by Jewish Klezmer musicians working in Germany from their fantastic 1994 album "Beyond the Pale" and moves from Eastern and Southern Europe to European-African fusions and wonderful and warm music from West Africa. Much has happened in the music industry in the last two decades. Most strikingly, when I started at CKCU the music industry was at its peak due to the high profits of compact discs. Over the next two decades, the music industry was rocked by the vast movement from physical media for music to digital copies. I am ambivalent towards this as it has had both positive and negative impacts on music. The most negative aspect has definitely been that it still continues to be an arduous struggle for musicians to make a living as musicians. I find it disheartening that people will line up overnight in order to purchase the latest expensive Iphone yet many people are still very reluctant to pay for content. Some commentators have blamed the record labels for being greedy and exploiting artists, I repeat the witty rejoinder that now the record labels are just as poor as the musicians who remain poor. I will also add that that whole argument really only applies to mass-market corporate commercial music, the Biebers and Lady Gagas etc. It has never applied to the vast numbers of independent labels and musicians toiling in the great musical traditions of the world. On the positive side, this has made a lot of music even more accessible than ever before and music can be more immediately, directly shared between artist and listener. We live in an extraordinary cornucopia of available music! However, one caveat, is that despite the incredible richness available at our fingertips, most available media has become even more homogenous. Unbelievably, commercial radio was much more interesting 30 years ago, and left to their own devices, the majority of music consumers never end up tasting, much less exploring the diversity available to them. This leads to one very important, relevant conclusion: One constant has remained the importance of independent radio. You will not find any streaming service anywhere which would give you the two playlists I offer today, which work beautifully as coherent, logical musical journeys. Join me on this journey through the wonderful music available in 1994 on my show, and make sure to support CKCU during its upcoming funding drive!
Goodbye Again
Guo Yue & Joji Hirota - Red Ribbon - Shanachie
Gigantic Geometric Patterns
Kodo with Isao Tomita - Nasca Fantasy - Sony
The Crane
Djivan Gasparyan - Ask Me No Questions - Traditional Crossroads
The Dark Night of the Soul
Loreena McKennitt - the mask and mirror - Quinlan Road

Huun-Huur-Tu will be playing 2 nights in Toronto on Nov. 19th and 20th! More info at www.smallworldmusic.com
The Orphan's Lament
Huun-Huur-Tu - The Orphan's Lament - Shanachie
Night Prayers
Giya Kancheli/Kronos Quartet - Night Prayers - Nonesuch
For those asking, the lyrics to this exquisite, poignant Yiddish song from Brave Old World, written in Berlin, 1990, as the Wall was falling and German reunification was in the immediate future:

"I've played here in Germany many's the time -
'...he who divides the sacred from the worldly,'
But I swear by my muse,
Mark well what I sing,
That not once has it been easy to be here.
I see you at night in smoky hangouts,
Talking youthful talk of today,
I'm proud of my heritage,
Yet I envy you,
Today's children of yesterday's enemy,
Because yours is the future,
One land and a language,
While we are left here, speechless...

...Yesterday's echo forever at hand,
'Of Blessed Memory' at every turn.
Yet something still draws together
Our two peoples;
A forbidden love, disrupted by evildoers,
Be it love or hate,
It is as if fated,
Cursed by human beings and the Creator.

So sing, my fiddle,
Play, my fiddle,
Like no one has played before.
And play me a sweet Diaspora song,
With a longing that's pure."
Berlin 1990
Brave Old World - Beyond the Pale - Rounder
Rolled Song from Szatmar
Kalyi Jag - Gypsy Folk Songs from Hungary - Hungaroton
Nic can Bagna
Kocani Orkestar - A Gypsy Brass Band - Long Distance
A Violetta
A Cumpagnia - Tempi di Sumente - K617
Monte de los Suspiros
Ketama, Toumani Diabate, Jose Soto - Songhai 2 - Ryko
Soukora
Ali Farka Toure with Ry Cooder - Talking Timbuktu - World Circuit
Jojo Yalah Jo
S.E. Rogie - Dead Men Don't Smoke Marijuana - Realworld
Sinebar
Youssou N'Dour - The Best of - Virgin
Khine Sine
Doudou N'Diaye Rose - Djabote - Realworld