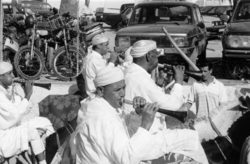 David Dalle
Thursday October 30th, 2014 with David Dalle
Funding drive!! Greatest hits and music for Halloween!
This year marks my 20th year on air at CKCU. That is 20 years of volunteering to produce great programming-music, interviews and radio on-demand that you just won't find in the world of corporate for-profit radio. And yet I still have so much more to share!! CKCU and my program need your support to be able to continue providing a unique voice for listeners in Ottawa and, indeed, around the world. I have many recent releases of rare music planned in the upcoming months, including John Luther Adams' Pulitzer prize winning piece "Become Ocean", a stunning masterpiece; the complete concert recording from their 2012 Paris concert of the great jazz masters Ahmad Jamal and Yusef Lateef; a journey into the dark psyche of Franz Schubert; Klezmer clarinetist Yom with cello, doublebass, and Iranian percussionist Bijan Chemirani in "Exodus", a work of astounding, almost Biblical intensity and beauty; and the regular coherent diversity of music you will not encounter anywhere else!
N'Teri
Rokia Traore - Beautiful Africa - Nonesuch
Natureza Viva
Olodum - Pela Vida - Cheiro
Devla
Boban & Marko Markovic Orkester & Fanfare Ciocarlia - Balkan Brass Battle - Piranha
Mesecina
Romeo Scaccia & Kocani Orkestar - Romeo Scaccia Meets Kocani Orkestar - Morgenland
Jane and Los Hoyos
Jane Bunnett, The Santiago Jazz Saxophon Quartet, La Conga de Los Hoyos de Santiago de Cuba - Alma de Santiago - EMI
All Hallows' Eve
John Zorn/Chris Otto, David Fulmer, Jay Campbell - On the Torment of Saints, the Crafting of Spells and the Evocation of Spirits - Tzadik
The Vanishing Pavilions Book I: 26
Michael Hersch - The Vanishing Pavilions - Vanguard Classics
Rendan-e-Mast
Mohammad Reza Shajarian & Shahnaz Ensemble - Rendan-e-Mast