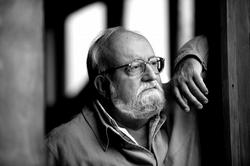 David Dalle
Thursday September 11th, 2014 with David Dalle
Penderecki's Piano Concerto 'Resurrection'; Toronto Jazz-Klezmer group Zebrina; Peter Sculthorpe; Warren Cuccurullo and Ustad Sultan Khan
Today we start with Krzystof Penderecki's Piano Concerto titled 'Resurrection'. He had initially planned a much lighter work when he began composing it in 2001, but the terrorist attacks on September 11th made him reconsider the work, and he instead wrote a much more serious work, a grand post-Romantic concerto with furious and sweeping themes leading to a dramatic climax with a moving chorale. He futher revised it in 2007 and this version was given its premiere by Irish pianist Barry Douglas. There is a nod to Mahler and his 2nd Symphony with the chosen title and direction of this concerto. It's a wonderful and dramatic work. We also hear a new recording by Zebrina, a Toronto group led by jazz pianist Jonathan Feldman, their new album is a collaboration with Klezmer clarinettist Ben Goldberg and is a wonderful exploration of Jazz and Klezmer. We will also hear some music by Australian composer Peter Sculthorpe who passed away in August. One of Australia's most celebrated composers, his musical language was defined by the vast Australian landscape and it is music which stretches out, often sombre and melancholy, and always beautiful and evocative.
Piano Concerto 'Resurrection'
Krzysztof Penderecki/Barry Douglas, Warsaw Philharmonic Orchestra, Antoni Wit - Piano Concerto/Flute Concerto - Naxos
Irkanda IV
Peter Sculthorpe/Richard Tognetti, Australian Chamber Orchestra - Works for Strings - Chandos
The Guru's Advice
Zebrina - Hamidbar Medaber - Tzadik


The Desert Speaks
Zebrina - Hamidbar Medaber - Tzadik


The Holy Man's Plea
Warren Cuccurullo and Ustad Sultan Khan - The Master - Six Degrees

4D Suite
Warren Cuccurullo and Ustad Sultan Khan - The Master - Six Degrees

Cello Dreaming
Peter Sculthorpe/Emma-Jane Murphy, Australian Chamber Orchestra, Richard Tognetti - Works for Strings - Chandos
Salif Keita will be performing an all-acoustic show in Montreal, his only Canadian stop, on September 17th at the Olympia. Besides his incredible voice and guitar, he will be joined by musicians on the guitar, n'goni, kora, percussion and two female vocalists. Should be a wonderful night of music!

http://www.olympiamontreal.com/en/event/salif-keita/
Djele
Salif Keita - La Difference - Universal
Moussolou
Salif Keita - Moffou - Universal