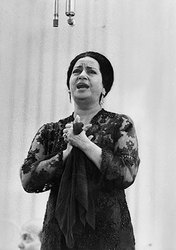 David Dalle
Thursday September 4th, 2014 with David Dalle
Hommage à Oum Kalsoum; Lili Boniche; Cumbia All-Stars
Today we begin with some pieces from a concert at a festival in Paris put on by the Institut du Monde Arabe. This concert was an hommage to one of the greatest of all Arab singers, Oum Kalsoum. Three young singers from Egypt, Morocco, and Tunisia--Riham Abdelhakim, Karima Skalli, Abid Nasraoui--gave renditions of famous songs of Oum Kalsoum accompanied by the National Arab Music Ensemble of Cairo Opera. We also hear a new album by the Cumbia All-Stars, featuring locally well known Peruvian musicians from the late 60's and 70's Peruvian Cumbia which was a mix of Columbian Cumbia with influences from Psychedelic rock. Some of these musicians are playing together for the first time in nearly 40 years. We also hear a reissue of an album by the late Lili Boniche, a Jewish-Algerian singer who mixed Algerian Arab-Andalusian music with Latin forms such as Tango and Mambo.
Gaddedt hobbak leh
Riham Abdelhakim, National Arab Music Ensemble of cairo Opera, Salim Sahhab - Hommage a Oum Kalsoum - Institut du Monde Arabe
Emta l-hawa
Karima Skalli, National Arab Music Ensemble of cairo Opera, Salim Sahhab - Hommage a Oum Kalsoum - Institut du Monde Arabe
Ana fe entezarak
Abir Nasraoui, National Arab Music Ensemble of cairo Opera, Salim Sahhab - Hommage a Oum Kalsoum - Institut du Monde Arabe
Elli Ghir
Lili Boniche - Tresors de la musique judeo-arabe - World Village

Ma Bine Eih
Lili Boniche - Tresors de la musique judeo-arabe - World Village

Taktouk andalou/Ghazalati
Maurice el Medioni - Cafe Oran - Piranha
Manzaneando
Cumbia All Stars - Tigres En Fuga - World Village

La Tamborera
Cumbia All Stars - Tigres En Fuga - World Village

La Cumbia del Parisino
Cumbia All Stars - Tigres En Fuga - World Village

Prelude & Fugue no. 19 in C# major
Mario Castelnuovo-Tedesco/Brasil Guitar Duo - Complete Music for Two Guitars vol. 2 - Naxos
Prelude & Fugue no. 20 in g# minor
Mario Castelnuovo-Tedesco/Brasil Guitar Duo - Complete Music for Two Guitars vol. 2 - Naxos
Nakana
Salif Keita & Kante Manfila - The Lost Album - White Swan
My Old Flame
Keith Jarrett & Charlie Haden - Last Dance - ECM