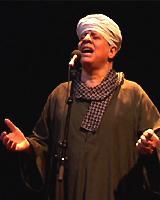 David Dalle
Thursday August 28th, 2014 with David Dalle
Sheikh Yasin al-Tuhami; Salif Keita
For my last show in August we take a look at another phenomenal Sufi singer, one of my favourites whom I place alongside Nusrat Fateh Ali Khan and Shahram Nazeri, Sheikh Yasin Al-Tuhami. He is possibly the most famous of the Munshidin in Egypt, with an extremely busy performing schedule and scores of recordings--but I can personally attest to this--even with the internet, it is exceptionally difficult to find anything outside of Egypt. Yasin Al-Tuhami strives for mystical communion through expressing suffering and the pain of separation. He does this with an extremely powerful and dynamic voice and an extraordinary technique. Today we hear him in an older cassette recording from 1996, in what must be a live recording (his music primarily belongs in live performance, with a responsive and rapt audience). This piece roughly translates into "the heart melts", but unlike some of his more rapturous, unmetered solos, this one does sound more celebratory. It moves the heart, it moves the body.
A beautiful, poetic quote describing Sheikh Yasin:
"Sheikh Yasin declaims the great Sufi poets. In a theatrical way, he searches for harmony through suffering, a suffering that is heard in his voice, broken with the emotion of a thousand sleepless nights. He uses his voice to accentuate words torn from another Islam. This is the Islam of the streets,the villages, the gallabiyas and the shisha; the last bastion of the poetry of the people of the Nile.

In his singing, the mythical 'habibi' of Egyptian song becomes a repeated incantation. The Sufi breath meanders between life, death, rebirth, hope and despair.

In the songs of this munshid, there is the idea of something unfinished. In his way of fashioning a word or a rhyme, Sheikh Yasin seems to lose himself in a labyrinth that makes him an eternal pilgrim in his poetry."
Daba lfoaad
Sheikh Yasin Al-Tuhami - Daba lfoaad - Aydaphone
Salif Keita will be performing an all-acoustic show in Montreal, his only Canadian stop, on September 17th at the Olympia. Besides his incredible voice and guitar, he will be joined by musicians on the guitar, n'goni, kora (I believe Mamadou Diabate whom we hear as well), percussion and two female vocalists. Should be a wonderful night of music!

http://www.olympiamontreal.com/en/event/salif-keita/
Maki
The Rail Band feat. Salif Keita - Dioba - Stern's
Touma
Mamadou Diabate - Behmanka - World Village
Moriba
Salif Keita - M'Bemba - Universal
At the End of Time
Boris Kovac & Ladaaba Orchestra - Ballads at the End of Time - Piranha
Bobanova Saga
Boban & Marko Markovic Orkestar - Gipsy Manifesto - Piranha
Bahraweya
Mahmoud Fadl & Hasaballah Brass Band - The Drummers of the Nile In Town; Cairosonic - Piranha
Dokk Ya Hasab
Mahmoud Fadl & Hasaballah Brass Band - The Drummers of the Nile In Town; Cairosonic - Piranha
Disko Dzumbus 2013
Boban & Marko Markovic Orkestar - Gipsy Manifesto - Piranha