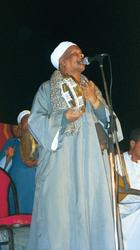 David Dalle
Thursday August 7th, 2014 with David Dalle
Rare sufi music with Sheikh Ahmad al-Barrayn; Bach, Xenakis, Charlie Haden
Sufism has too often retreated in the face of threats from politically-motivated fundamentalist Islamicists, it has virtually disappeared in Afghanistan and Somalia, and is under threat in Pakistan, Syria, and Iraq, home to three great traditions of Sufism. So for the month of August, during which I always commemorate the most famous of Sufi singers, the late Ustad Nusrat Fateh Ali Khan who died August 16, 1997 we will hear a lot of Sufi music, including some very rare recordings of Egyptian Sufi Munshidin. Guardians of a traditional Egyptian music culture, the Munshidins are still very popular in Egypt, but virtually unknown and undocumented outside Egypt. Today we hear Sheikh Ahmad al-Barrayn, a popular Munshid from Upper Egypt who has great knowledge in both classical and folk Arabic poetry.
Track 1
Sheikh Ahmad al-Barrayn - Sufi music from Egypt
Track 2
Sheikh Ahmad al-Barrayn - Sufi Music from Egypt
Prelude in e Op 87 no. 4
Dmitri Shostakovich arr. Mathias Maute/Ensemble Caprice - Brandenburg Concertos - Analekta

Brandenburg Concerto no. 3 BWV1048
Johann Sebastien Bach/Ensemble Caprice - Brandenburg Concertos - Analekta

Ya rabbi, bi-l-Mustafa balligh mawasidana
Sheikh Mohammed el Helbawy - Chants soufis du Caire - Institut du Monde Arabe
The JACK Quartet's concert at last year's Chamber Music Festival remain possibly my favourite concert in the 20 year history of the Festival, particularly the performance of Georg Friedrich Haas' 3rd String Quartet "In Darkness". Sadly Haas is reluctant to have this piece recorded because of the unique performance setting he requests. But we hear the JACK Quartet in a live recording of another fantastic piece they performed, Tetras by Xenakis.
Tetras
Iannis Xenakis/JACK Quartet - Live at Wigmore Hall - Wigmore Hall Live
I heard this piece by Charlie Haden and Carla Bley on Janis' show after mine a few weeks ago, I love it, and can't resist playing it again from this now out of print vinyl release.
Els Segadors
Charlie Haden, Carla Bley et al. - The Ballad of the Fallen - ECM
The Ballad of the Fallen
Charlie Haden, Carla Bley et al. - The Ballad of the Fallen - ECM
Rouhi (live)
Egyptian Project - Ya Amar - Six Degrees