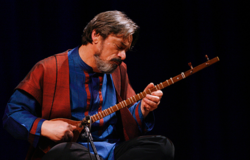 David Dalle
Thursday March 27th, 2014 with David Dalle
Hossein Alizadeh live in concert
Today we hear the great master musician and composer Hossein Alizadeh, one of the greatest of his generation, in a concert recording from Los Angeles in 1993. He peforms improvisations in Dastgah Nava on Setar with Madjid Khaladj accompanying on Tombak. A deeply moving and profound performance. Persian improvised concerts like this from a musician of his calibre is a very rare treat, and Ottawa will have the great fortune of hosting a concert by Hossein Alizadeh with Pejman Hadadi accompanying Saturday April 12th at the Alumni Theatre, Ottawa University. Not to be missed!
Daramad
Hossein Alizadeh & Madjid Khaladj - Live at the Los Angeles Festival - Kereshmeh
Kereshmeh
Hossein Alizadeh & Madjid Khaladj - Live at the Los Angeles Festival - Kereshmeh
Neyshaburak I
Hossein Alizadeh & Madjid Khaladj - Live at the Los Angeles Festival - Kereshmeh
Neyshaburak II
Hossein Alizadeh & Madjid Khaladj - Live at the Los Angeles Festival - Kereshmeh
Neyshaburak III, Foroud
Hossein Alizadeh & Madjid Khaladj - Live at the Los Angeles Festival - Kereshmeh
Nahoft I
Hossein Alizadeh & Madjid Khaladj - Live at the Los Angeles Festival - Kereshmeh
Nahoft II
Hossein Alizadeh & Madjid Khaladj - Live at the Los Angeles Festival - Kereshmeh
Bayate Kord I
Hossein Alizadeh & Madjid Khaladj - Live at the Los Angeles Festival - Kereshmeh
Bayate Kord II
Hossein Alizadeh & Madjid Khaladj - Live at the Los Angeles Festival - Kereshmeh
Bayate Kord III, Foroud
Hossein Alizadeh & Madjid Khaladj - Live at the Los Angeles Festival - Kereshmeh
Alifuthu
Ahmed Nasheed - Dhaalu Raa - Asasi Records

Manjemen
Ahmed Nasheed - Dhaalu Raa - Asasi Records

Utsilawe Furahani
Mohamed Hassan - Duniya - Dizim
Vya Kale Dhahabu
Culture Music Club - Nuru - Jahazi
Eka Lahy
Regis Giazavo, Louis Mhlanga, David Mirandon - Stories - Marabi
Mare Rano
D'Gary - Mbo Loza - Indigo
Mana Malohi
Te Vaka - Haoloto - Warm Earth
Surma
Mulatu Astatke with Fatoumata Diawara - Sketches of Ethiopia - Jazz Village