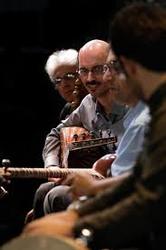 David Dalle
Thursday March 20th, 2014 with David Dalle
Celebrating Nowruz with Dastan ensemble with Iraj Bastami, Shahram Nazeri & Ensemble Alizadeh
Following the special Namashoun Nowruz show, we will continue celebration of Nowruz and Persian culture with Dastan Ensemble's Booye Nowruz from 1992, I believe their first album. On this album they are joined by the late vocalist Iraj Bastami. We also hear from my favourite Persian singer, the great Shahram Nazeri, performing a piece for Nowruz and Kurdish Folksongs with Ensemble Alizadeh, led by Hossein Alizadeh who will be in Ottawa on April 12th. A big thank you to Janice for generously loaning a few minutes of her show to finish mine!
Booye Nowruz
Iraj Bastami & Dastan Ensemble - Booye Nowruz
Nowruz & Kurdish Folksongs
Shahram Nazeri & Ensemble Alizadeh - Iran/Kurdistan - Network
Lanek Lanek
Kamkars - The Living Fire - Long Distance