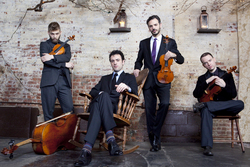 David Dalle
Thursday March 6th, 2014 with David Dalle
Keith Jarrett, Brooklyn Rider
On today's show, we hear the 2nd half of Keith Jarrett's 1981 Munich solo concert, issued on CD for the first time recently by ECM. However, we begin the show with a darkly-coloured set bookended with two pieces performed by adventurous string quartet Brooklyn Rider, the first "Seven Steps" is the quartet's own composition, the second "Together Into This Unknowable Night" is by American composer and electronic musician/violinist Christopher Tignor, who adds some subtle electronic touches to this piece. In between there will be a varied musical thread treading over dark landscapes.
Seven Steps
Brooklyn Rider - Seven Steps - Brooklyn Rider
Wrong Thought
Sarah Neufeld - Hero Brother - Constellation Records

Hero Brother
Sarah Neufeld - Hero Brother - Constellation Records

Buffalo Watch
DaZoque! - DaZoque! - Les pages noires

Kolnidur
Jonsi - Go - XL Recordings
Is Anybody In There?
The Warsaw Village Band - Infinity - Barbes
Sorrowfull and Restless Heart
Kamkars - Gol Nishan - Art House
Together Into This Unknowable Night
Christopher Tignor/Brooklyn Rider - Seven Steps - Brooklyn Rider
Munchen Part III
Keith Jarrett - Concerts Bregenz Munchen - ECM

Munchen Part IV
Keith Jarrett - Concerts Bregenz Munchen - ECM

Prelude and Fugue in a BWV 865
Johann Sebastien Bach/Sviatoslav Richter - The Well-Tempered Clavier - RCA Victor