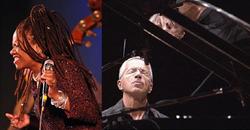 David Dalle
Thursday February 27th, 2014 with David Dalle
Keith Jarrett, Catherine Russell, Souljazz Orchestra, Paco de Lucia
A lot of jazz today with new releases from Ottawa's own Souljazz Orchestra, singer Catherine Russell and and a reissue from Keith Jarrett. Keith Jarrett's 1981 Munich concert was only released on lp in 1981. Thankfully for those of us who did not have the lp, ECM has finally issued it on cd. We will hear parts I and II today, and parts III and IV on a later show. We will also hear some music from Paco de Lucia, who passed away this week.
Munchen Part I
Keith Jarrett - Concerts Bregenz Munchen - ECM

Munchen Part II
Keith Jarrett - Concerts Bregenz Munchen - ECM

Kingdom Come
The Souljazz Orchestra - Inner Fire - Strut Records


You Got To Swing and Sway
Catherine Russell - Bring it Back - Jazz Village

I Cover the Waterfront
Catherine Russell - Bring it Back - Jazz Village

Lo que me queda por vivir
Omara Portuondo & Chucho Valdes - Desafios - Nubenegra
Zyryab
Paco de Lucia with Chick Corea - Zyryab - Verve
Agoya
The Souljazz Orchestra - Inner Fire - Strut Records


Obiara Wondo
The Cutlass Band - Afrobeat Airways 2 - Analog Africa
Kana Soro
Los Issufu and his Moslems - Afrobeat Airways 2 - Analog Africa
Dugu Kamaleba
Rail Band feat. Mory Kante - Mansa - Stern's
Na Bimaka Te
Orchestra Super Mazembe - Mazembe@45RPM - Stern's
As The Crow Flies
The Souljazz Orchestra - Inner Fire - Strut Records


The Souljazz Orchestra will be performing at Babylon Nightclub on March 15.
www.babylonclub.ca