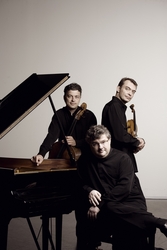 David Dalle
Thursday February 6th, 2014 with David Dalle
Thinking of the Sochi Olympics
I admit it is hard to feel much enthusiasm for the Sochi Olympics beginning this week, since most news from Russia has and continues to be negative for quite some time now. What I don't understand about Russia's turn towards renewed imperialism and authoritarian government under Vladimir Putin, is that it has mostly been unnecessary. The Russian economy expanded considerably under Putin, he has had no need to stifle and oppress opposition and dissenting voices, he would win a solid majority in completely free and unfettered elections. It is like Russians cannot shake off its Tsarist and Soviet history of autocratic, oppressive rule. There is a very real tragic perspective in Russian culture and history. One of the most bewildering, unnecessary, and offensive things to come out of Russia recently is its vile homophobic legislation banning distribution of "propaganda of non-traditional sexual relations" among minors. Though at its most superficial, naive reading, it may sound somewhat reasonable, it is really a deceptive attack on LGBT rights and safety in Russia. So with all this in the back of my head, my choice of music is obvious and unavoidable, we will hear music from, by far Russia's most famous musical figure, Piotr Ilyich Tchaikovsky. A towering figure in Russian music and culture. His most famous music and melodies are known by almost everyone and are some of the most performed and heard classical music. And as known, documented, and attested to by every biographer and musicologist both within Russia and outside, Tchaikovsky was incontrovertibly gay. This was an open secret among the social and artistic circles Tchaikovsky moved in during his lifetime. As with every human society and nation, LGBT members are part of every strata (from great artistic and cultural figure to everyday common folk) and contribute in every way to that society or nation. Russia trying to pretend otherwise is both a grave disservice to Russia's own history and cultural legacy, very disappointing, and (as often is the case with Russia), tragic. We will hear one of my favourite Tchaikovsky pieces, his grand, lyrical and tragic Piano Trio in a minor, Op. 50 from 1882. Written "in memory of a great artist" for his colleague and friend Nikolai Rubinstein who died in 1881, founder of the Moscow conservatory who hired a young Tchaikovsky to teach there and championed his career as a composer. The work is in 2 large movements, the first a large and sweeping elegiac movement with a gorgeous mournful theme. The second is a set of 12 variations on a fairly bright theme, the final one works itself to a passionate frenzy before it suddenly shifts back into the a minor and a coda reintroduces the opening movement's mournful theme and the piece ends with a tragic, funeral march. Spectacular.
Piano Trio in a minor Op. 50
Peter Ilyich Tchaikovsky/Trio Wanderer - Tchaikovsky/Arensky - Harmonia Mundi

Derrig dunie
Ensemble Aznach - Zoura - Ethnomad
Almani Atdim Xarala
Sevdali Alekperzadeh - Sevdali Dunya - Network
Gabooyd trchoon
Chookasian Armenian Concert Ensemble - Avantagan - 7/8 Music
Metaphors
Ensemble Gaguik Mouradian - Goussan - Accords croises
Gol Nishan
Kayhan Kalhor & Erdal Erzincan - Kula Kulluk Yakisir Mi - ECM
Karsida Gorunen
Ashik Mahsuni Serif & Musa Eroglu - Ashiklar, Those Who Are In Love - Golden Horn
Dundarawi
El Tanbura - Between the Desert and the Sea - World Village
Eldam
Etran Finatawa - The Sahara Sessions - World Music Network
Tamtamaki
Aziz Sahmaoui & University of Gnawa - Aziz Sahmaoui & University of Gnawa - Naive
Smaa Smaa
Hasna el Becharia - Womexizer 2009 - Womex
Iyat Idounia Ayasahen
Bombino - Agadez - Cumbancha