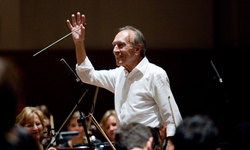 David Dalle
Thursday January 30th, 2014 with David Dalle
Adrian Raso & Fanfare Ciocarlia, Claudio Abaddo and Mahler
Today we hear a brand new album, The Devil's Tale, a collaboration between Toronto guitarist Adrian Raso and the famed Romanian gypsy brass band Fanfare Ciocarlia. Adrian Raso sought out Fanfare Ciocarlia and they met to record when Fanfare Ciocarlia was in Toronto during their last North American tour. The result is a very eclectic mix of traditions from Django Reinhardt inspired French Gypsy Jazz, Flamenco, and Balkan music. We also remember the great conductor Claudio Abbado who died on Jan 20th aged 80. A wonderful, lyrical conductor, his favourite composer was Gustav Mahler, which he recorded with several of the greatest orchestras, the Berlin Philharmonic, the Vienna Philharmonic, Chicago Symphony Orchestra, and his own Lucerne Festival Orchestra, an orchestra hand-picked by Claudio Abbado for the annual summer Lucerne Festival. Today we hear his gorgeous recording of Mahler's 9th symphony with the Vienna Philharmonic.
Devil's Tale
Adrian Raso & Fanfare Ciocarlia - Devil's Tale - Asphalt Tango


Spiritissimo
Adrian Raso & Fanfare Ciocarlia - Devil's Tale - Asphalt Tango


Django
Adrian Raso & Fanfare Ciocarlia - Devil's Tale - Asphalt Tango


Dil Ka Chor Mera Jab Aayega
Jaipur Kawa Brass Band - Dance of the Cobra - World Music Network
Surma
Mulatu Astatke with Fatoumata Diawara - Sketches of Ethiopia - Jazz Village
Fatoumata Diawara will be appearing in Toronto Saturday evening with Bassekou Kouyate & Ngoni Ba at the Royal Conservatory, more information at smallworldmusic.com/
Bassekou Kouyate & Ngoni Ba are playing in Montreal Sunday, I am not sure if they will be joined by Fatoumata Diawara, in either case, should be a wonderful show, more information at http://www.festivalnuitsdafrique.com/
C'est la vie
Adrian Raso & Fanfare Ciocarlia - Devil's tale - Asphalt Tango


Symphony No. 9
Gustav Mahler/Vienna Philharmonic, Claudio Abbado - Vienna Philharmonic Symphony Edition - Deutsche Grammophon
If you looking to see some Mahler live, Kent Nagano and the Montreal Symphony Orchestra will be performing Mahler's 7th in Montreal Feb 4, 5, and 15, as well as performing it in Toronto Feb 12.
www.osm.ca or www.tso.ca for more information.